On January 1, I said goodbye to Facebook, ostensibly for a month-long hiatus.
I won't be back anytime soon.
Go ahead — try it with me. The thought may make you uncomfortable, but a social media break may do more for you — and your brain — than you think.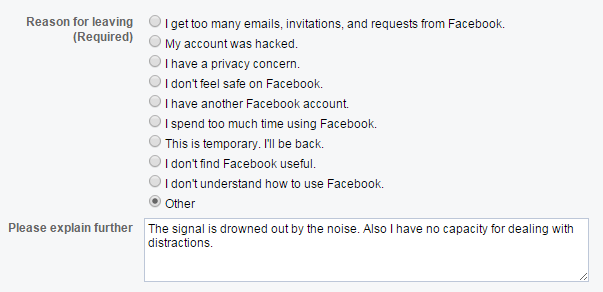 Unplugging…and missing out
First of all, let me be clear: quitting Facebook wasn't easy. Our family and friends make a constellation over the entire globe. For some, the internet is the only way we remain connected. While I'll fill in the gaping holes with more direct and/or less cluttered services like Google Hangouts, Google+, Twitter, Instagram, and personal blogs, I will lose touch with people as a result of leaving Facebook. This is something I've had to accept.
I also worried about my platform as a writer. Could I continue to build an online presence sans Facebook? I searched for a few bloggers and authors I respect and found that not all have built their success via social media. In fact, Leo Babuta even wrote a detailed post on zen habits about leaving Facebook. The costs don't always outweigh the benefits.
Surprising side effects
Quitting Facebook didn't just give me more time. I've had more creative energy. Surprisingly, I've actually spent more time thinking about my friends than when their names populated my news feed.
During my first weeks without Facebook, I often caught myself viewing life through social media's lens: encapsulating my experience into status updates, even when I was nowhere near a computer. That habit has gradually fallen away, freeing up mental real estate for meaningful, intentional writing and reflection.
I feel less distracted on a daily basis, and I've resumed work on a major fiction project after taking more than a year off.
Perhaps most important, I have a better handle on my social relationships. I find if we're "friends" with someone on Facebook, it's easy to absolve ourselves of any other responsibility for that relationship. I'd stopped connecting one-on-one with too many good friends — even those who rarely use Facebook.
Try this at home: my advice
I'm not telling you to delete your Facebook account tonight. However, there's a lot to be learned from disconnecting, even temporarily. Consider taking a time out and observing the effect on your productivity, creativity, free time, and distraction level. Some tips to keep in mind:
Check your calendar first.
If you're part of an upcoming event that's being organized via Facebook, take your break afterward.
Don't make it too short.
It took a few weeks for Facebook to work its way out of my daily thought processes. Take the time to break the habit. Returning to your old ways will feel less appealing.
Transfer responsibility.
If you manage or co-manage a group or page, make a plan for maintaining it in your absence.
Use an app.
If you can't disconnect completely, only check Facebook at certain times of day or set a timer to limit your use. Avoid taxing your self-control by using an app like the Productivity Owl, which regulates internet use based on your rules.
Contain it.
If you don't cut Facebook out completely, make your usage more intentional. Try removing the app from your smart phone so you can only check in when you're sitting at a computer.
Facebook might not be the problem.
What corner of the internet is hijacking your brain, even when you're offline? Take a break from it to gain perspective.
Whatever you do, I wish you luck on your quest to reduce distractions, improve social relationships, and get more done. Feel free to share your stories and suggestions in the comments!