I don't know about you, but for me, packing up those unwanted items for donation is only half the battle. Decluttering experts suggest several ways to make sure this stuff actually leaves your house: for example, keeping it in the car or dropping it off that very day.
For people with ADHD, it's not that easy. After my son's birthday party this year, I shoved six pizza boxes into my car to drop off at the sanitation yard "on my next errand." I do a lot of errands and the sanitation yard is a five-minute drive from home. The boxes sat in my car for weeks.
When it comes to ADHD decluttering, I've found one thing that works: whether you're throwing away or giving away, do it without leaving your home. Here's how: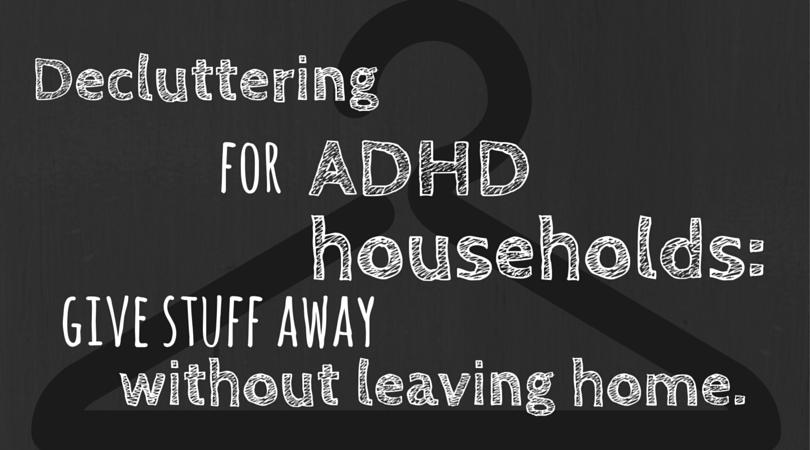 Charity pickups
Many charities offer pickup services. After you schedule your pickup, you just need to put your items out on the appropriate day. Organizations with pickup services include:
If you live in a city, charities may even send you postcards with dates when their trucks will be in your neighborhood. Some charities include a large plastic bag with the postcard. Why not set a goal of filling these bags with clutter when they arrive and setting them out on the designated pickup date?
Freecycle
Freecycle is a grassroots network of communities dedicated to giving (and getting) stuff for free to keep usable items out of landfills.  The process is simple: post an offer on the site, receive emails from interested parties, choose someone who seems sincere, and coordinate a time for them to pick it up from your porch/front yard/etc.
Freecycle also makes it easy to declutter piece by piece. Rather than setting aside time to fill a big box for charity pickup, you can harness your impulsivity and rehome unused items one thing at a time. No matter what it is, there's a good chance someone out there wants it.
A word of warning: be careful not to acquire items from Freecycle unless it's already on a shopping list and it's close to home. If you need to, unsubscribe from all email alerts except those in reply to your own offers. I once drove a half hour across town for a new set of shower curtain hooks I had no idea I needed — until I saw them advertised for free on the internet.
The bottom line: there are many ways to donate or give away unwanted items without leaving home. For people with ADHD, this is the way to go. Freecycle and charity pickups allow you to complete the decluttering process more gracefully, without adding an errand to your list or junk to your car.
When you're decluttering, how do you make sure unwanted items actually get out the door?