Toward the end of March, my immune system sabotaged all my good habits. My son brought home a bug that hardly affected him, but — like the evil kid illness it was —  gave me 12 days of low-grade fever. I muddled through. Mostly. But I didn't exercise, hardly set foot in my office, and got off track with my daily habits. Clutter piled up and projects stagnated. I lost sight of wellness and productivity and couldn't imagine either being part of my life again.
I was headed straight for the Pit of Domestic Despair.
Fortunately, I'm aware of ADHD's time blindness. Though it wasn't deeply reassuring, I told myself I wouldn't be sick forever.
I also repeated, over and over, "it's okay. You're okay. We're okay."
Habits break, systems break, and it's not the end of the world — or even the good habit.
Or, rather, it doesn't have to be.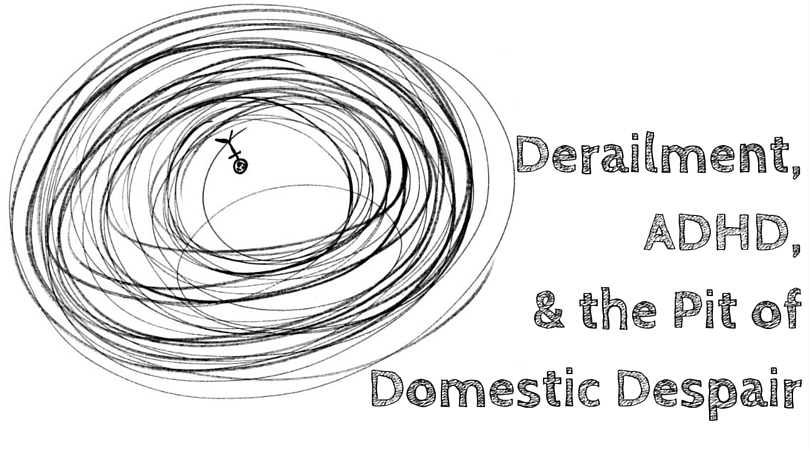 "No, thanks" to self-loathing. "Yes, please" to equanimity.
ADHD does more than make it tough to stay on course. Through years of repeated failure, we teach ourselves that failure is inevitable. New habits and projects excite us, but only to a point. By adulthood, our cynicism always lurks in the shadows, reminding us that success is fleeting. Yes, we're doing it, but only for now. Only until the next time everything falls apart.
I've spent years learning to stay organized and form intentional habits, but my most important lesson has been in accepting failure. Everyone gets off track sometimes. Even people without ADHD. The key isn't staying on the wagon, it's knowing how to climb back on.
When a habit breaks or a project stagnates or a deadline gets missed, it's not a confirmation of all my self-doubt and self-criticism. Letting the house get messy one week doesn't signal a return to my "real" (i.e. unhappy, unfocused, disorganized, unproductive) self. It means I messed up. Or I had a fever for 12 days. It's just a thing that happened.
This brings me to my favorite word: equanimity. It means remaining neutral in the face of life's gains and losses, and it's a skill I'll be honing for the rest of my life. In this case, it means looking at my messy house and my broken habits, saying, "okay," and moving on without much fanfare.
There's usually something beyond Right Now (even if we don't believe it).
I eventually felt better — obviously. And for the first time, I didn't spend my first day on the mend beating myself up or lamenting the impossible task in front of me. I just got up and kept going. Slowly.
With the energy I saved by not spinning myself up to a state of intense despair, overwhelm, and self-loathing, I started to dig out of the Pit of Domestic Despair. I (finally) changed the sheets on our bed. I spent a week chipping away at my overflowing inbox. I attacked the accumulated clutter, bit by bit. I refused to start on any projects until I'd gotten back to a workable baseline. I spent my energy getting to a place where I could feel good again.
It's taken me a long time to learn this. To learn, for example, that instead of sitting in the house and complaining about my bad attitude, I should put on my shoes and go for a run. ADHD is often a problem of inertia. Overcoming inertia, even if we only take one itty-bitty, tiny step, is half the battle.
Everyone gets stuck. The more gracefully we can accept this and move on, the better. ADHD tempts us to believe Right Now is all there is. That makes messy surroundings and broken habits feel overwhelming and permanent. The Pit of Domestic Despair becomes a black hole. It's taken me almost 32 years, but I've finally taken a leap of faith. I don't always believe something better is waiting around the bend. I'm  just willing to inch my way over there and find out.