Home-cooked meals nourish our bodies, our minds, and our budget. I have a pretty solid meal planning routine, but this summer I welcomed a little help from meal delivery service HelloFresh.
For the purpose of this review, I used HelloFresh for around six weeks. I received one free box , but all opinions are (as always) my own. This review is based on the veggie box. I tried to keep it concise, but I welcome your questions in the comments.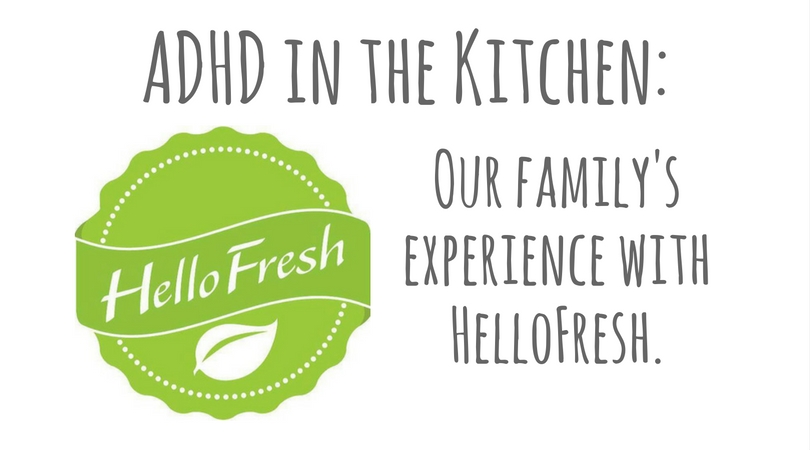 Flavors
I enjoyed every HelloFresh meal. The flavors were on point for summer: fresh, light, and seasonal. Many meals were based on our household favorites — beans and rice, quesadillas, stir fry, etc. — but offered a new twist.
ADHD sabotages impulse control, so pre-portioned meals were a plus, especially after overeating on several vacations this summer. However, meals with greens had too many, and some salad-based meals felt too light to stand alone for dinner. I enjoy vegetarian meals, but that doesn't mean I'm on a diet.
Families with allergies or extreme pickiness should know, HelloFresh doesn't offer meal preferences unless you order the 3-meal Classic Box. My husband is mildly allergic to tree nuts, but I could usually leave the nuts off his portion.  I don't recall receiving anything with peanuts, but many meals contained tree nuts, gluten, soy, and/or dairy.
Ease of preparation
HelloFresh boxes are stocked with everything you need to prepare your meals. Expect to stock staples like salt, pepper, and olive oil, but that's about it. None of the recipes require a microwave (good, because we don't have one), and all clean up easily without a dishwasher (don't have one of those, either).
The meals were so easy to prepare, I took HelloFresh on vacation.  There's no contract and it's easy to change your delivery address week to week. Changing or pausing the service is no big deal (great for ADHD-affected families, where these details are often overlooked). I had a box delivered to our beach house and combined meals to make a two-course feast for friends.
While I thought preparation was a breeze, my husband found meal preparation "so stressful." He's my cooking opposite: he's a novice, he's fastidious, and his ADHD makes multi-tasking almost impossible. The recipes were easy, but some required multi-tasking: having two pots on a flame at once, broiling veggies while sauteeing onions, etc. That said, he successfully cooked 2.5 of the 3 meals I assigned him to cook without my help.

HelloFresh changed the way I think about meal preparation. Since the birth of our son, I've relied on big batches. I'll make meat sauce for spaghetti in the crock pot, then freeze it in three-cup portions to use later. My rotation of big batch recipes is big enough to eliminate from-scratch cooking on weeknights.
With HelloFresh, I learned to simplify from-scratch meals and get them underway quickly. Each meal has its own labeled box with ready-to-use ingredients: tiny jars of honey, vinegar, or other condiments; peeled, wrapped cloves of garlic; a single carrot. I had no idea how much time I was spending collecting ingredients, putting containers away, and measuring tablespoons of oil! I plan to save some of those little jars and build my own meal boxes for non-HelloFresh nights.
Freshness
We had a few nasty heat waves last month, and some of our produce arrived in poor shape. On a particularly punishing afternoon, I opened my box to find the food inside already rotting. I'm glad I never ordered a box with meat inside. As long as temperatures didn't exceed the low 90s, everything arrived fresh.
HelloFresh provided excellent support when I emailed a complaint about this. The representative who wrote back was prompt, friendly, and quite apologetic. She applied a credit to my account for the full cost of my box, even though many of the ingredients had been usable. However, I continued to receive distinctly un-fresh perishables on hot days. Throwing away food makes me sad, and I ended up pausing the service for a week because of the heat. (For reference, our delivery carrier in Baltimore is LaserShip — others' experience may vary.)
The verdict
Overall, I think I'm hooked. HelloFresh adheres well enough to my pre-existing dietary preferences: simple meals, whole foods, no synthetic dyes, etc. Although I'd love more organics and whole grains, I'm willing to compromise because HelloFresh is so delicious, convenient, and economical.
Though it won't magically transform a non-cook into the family chef, HelloFresh is a snap compared to a service like Blue Apron. It's perfect for folks with ADHD who enjoy cooking because meal planning demands so much of our executive functioning.
Interested in trying HelloFresh for yourself? Use the code JACLYNP35 to get $35 off your first box. Tell me what you think (or ask me anything about my HelloFresh experience) in the comments!