We've all made jokes about our ADHD. A little gallows humor can keep us from getting too down on ourselves.
But be careful. Impulsivity, time-blindness, and low self-esteem can create the perfect storm — and a potentially life-threatening situation.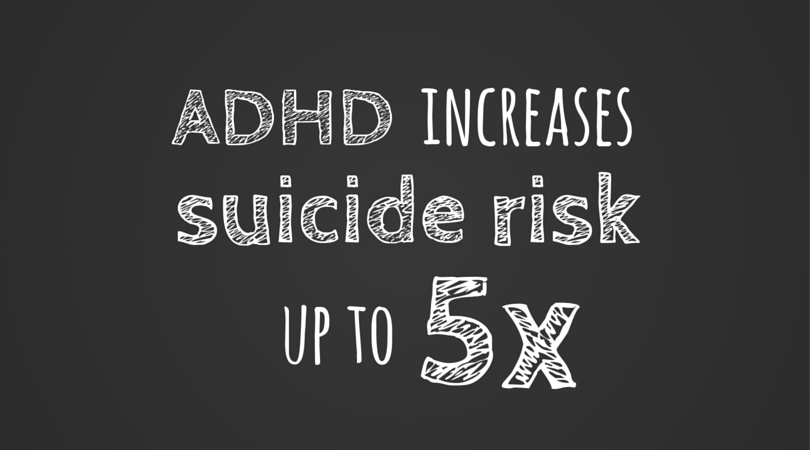 ADHD has a dark side, and several studies suggest it increases suicide risk as much as five-fold.
Relentless emotional volatility and feelings of failure can lead to a lot of negative self-talk: "I'm such a screw-up," "my family is embarrassed by me," "I'm a burden," "I'll never accomplish anything meaningful," "my hopes and dreams are worthless because I'll never come close to any of it," "everyone would be better off without me."
For ADHD adults and teens, these thoughts feel like more than a blip, a dark mood that will lift tomorrow.
Time-blindness means we can't (not just dont — often, we truly can't) see outside the moment. This moment of weakness becomes all there is. The good times, or even the days when we can see and acknowledge our strengths in spite of it all, don't feel real. Our perceptions of ourselves lock in on right now, and right now feels like past, present, and future all rolled into one.
It's at this moment that ADHD-fueled impulsivity — the part of us that fails to consider the longl-term consequences of our actions — crosses from childish and annoying to tragic and potentially fatal.
What to do when it becomes too much
If you're feeling out of control and frightened, ask for help. Reach out to a friend, go hang out in a public place, take a break. If all else fails, get yourself to the emergency room. As a teenager, I escorted a friend to our local ER's crisis intervention center and learned firsthand what a lifesaver it can be — even in the middle of the night.
Whatever you do, don't let yourself believe your problems aren't real, that it's "just ADHD," not a "real" mental health issue. Comorbid disorders are common, and ADHD's impulsivity and impaired perception of time and consequences can fuel risky behavior.
Unsurprisingly, women and girls with ADHD suffer from high rates of self-harming behavior. Many slip through the cracks and remain undiagnosed until their teens or even adulthood. Girls tend to internalize their struggles more than boys, and ADHD symptoms can manifest differently.
Parents beware: as children mature into their teens and early adulthood, hyperactive ADHD symptoms may fade, but don't let that fool you. Just because you can't see symptoms on the outside doesn't mean your kids don't need you. In fact, they may need you now more than ever.
Have your or your child had an experience with self-harming behavior? How did you cope, and what would you recommend for someone in a similar situation?