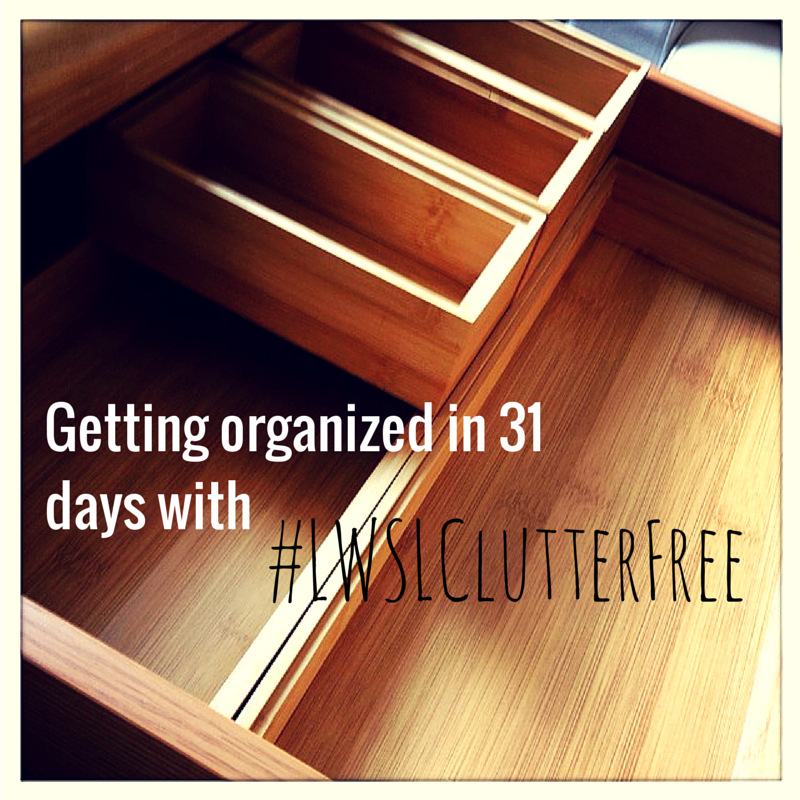 Well, that's a wrap, on October and on the #LWSLClutterFree 31-day challenge.
My conclusion: #LWSLClutterFree's goals may be attainable for the average person or household. Ours is not the average household.
We're the kind of home where we can make a mess of a room one day, shut the door in utter overwhelm the next, then pretend the room doesn't exist for over four months. We can take that same room down to the bare studs and leave it that way for a year and a half.
We dream big here. We start strong, and then — well, and then.
One discrete decluttering project per day was just too much to sustain for an entire month.
I'm glad I recognized this and backed off before I made too much of a mess. And while I only completed one third of the daily projects, but that doesn't mean I got nothing done. It just means this wasn't an ADHD-friendly challenge.
31 days of decluttering: what I wanted
Before I embarked on #LWSLClutterFree, I took a few minutes to write down some key areas where I wanted to see improvement:
The basement, which is a dumping ground for unused items and things I don't know what to do with
The kitchen, which is very small but has plenty of under-utilized space
The portable closet in my bedroom (it has to go)
The office (it's a mess)
Pantry
Freezer
I also noted my concerns:
Fitting #LWSLClutterFree projects into my everyday life without shortchanging my regular household maintenance
Making the checklists and tasks manageable for ADHD attention and focus — would there be enough structure and supports to make the projects feel doable?
Too much "just do it" mentality
Hyperfocus traps — how would I keep the projects within their time budget and avoid tangents?
I began the month feeling energized and optimistic. While I doubted I could solve all my clutter problems in one month, I hoped the added structure would help me tackle the most intimidating areas.
What #LWSLClutterFree gave me
By the end of the month, I had some successes to report:
I put out enough junk to qualify for a medium-size charity pickup (as opposed to a small one).
I decluttered the kitchen counters and moved a few things around in the cabinets to make life easier
The portable closet is now empty
The pantry is now well-organized and no longer overflowing
We thinned our book collection significantly, and I came up with a great technique to help my husband choose which books to keep
I didn't touch the freezer or the office, and the basement wasn't included in the challenge so I just worked on it in my spare time.
#LWSLClutterFree may not have helped me solve our home's biggest problems, but I did make some high-impact improvements. I'm especially pleased with the entryway and R.'s toy area.
I also experienced some pleasant side effects. Cleaning out the pantry inspired me to implement a food budgeting system, which reduced our food costs by around 30%. I've also noticed a big drop in our weekly food waste.
While we're talking about money, I don't know about you, but I find cash nearly every time I do a major cleanout. I've never quite figured out how this happens. It's never a paltry sum, either — on the first day I took stimulant medication, I cleaned up a previously abandoned room in our house and found enough money to buy a rug and several other decor items. This time, I found $70 as I chipped away at the mess under our basement stairs.
Little success, but little regret either
Overall, I'm glad I attempted #LWSLClutterFree. Getting into the minimizing spirit just before the holidays will definitely help as I make our Christmas and birthday wish lists. Also, the projects I did complete were, by and large, ones I wouldn't have thought to put on my list. I've been deterred from any minor spruce-ups because the office and basement are hanging over my head.
Much like Erin Doland's Unclutter Your Life in One Week, though, the timeline makes this challenge unrealistic for ADHD'ers. Many of the projects could well have been expanded to a week to break them down sufficiently.
Years ago, I may have let my lack of quantifiable success demoralize me, but I've learned to see the bright side by now. I made (and found) some money, got a lot of stuff out of the house, and made my living and dining room areas look considerably nicer than they did a month ago. Is my entire house clutter free? Absolutely not. Am I a few steps closer to achieving that goal? I sure am. That's good enough for me this time.
Now, if you don't mind, it's time for me to plug in a space heater, queue up a playlist, and return to the long, slow project that is cleaning out my basement.