During an emotional meltdown, part of us really does disappear. My two-year-old gave me a powerful reminder of this while we were staying with friends for the weekend.
R — exhausted from days of fun and social interaction — totally lost it getting ready for nap. We were in full meltdown mode. I just sat in the middle of the room and tried to remain calm as he sobbed, crawled in circles, and screamed incoherent sentences.
The crying eventually subsided. R opened his eyes, looked at me like he was seeing me for the first time, smiled, and said…
"Hi."
Hi. As though he had just returned from Somewhere Else. In a way, he had.
When your rational brain checks out
It happens to grownups, too. I especially like how Dr. Mark Goulston describes this phenomenon in his book Just Listen.  He refers to our "three-part brain" as:
The lower reptilian brain (fight-or-flight),
The middle mammal brain (emotions), and
The higher primate brain (logic and rational thought)
These parts were added on sequentially as we evolved. For a real-life illustration, spend some time with babies and toddlers. In his classic Happiest Toddler on the Block, Dr. Harvey Karp compares toddlers to "primitive little cavemen" living a "superfast rerun of ancient human development."
As adults, Goulston says, these three parts of our brain can work as a team. However, add a little stress and our old reptile brain takes over.
"If you're talking to [someone] whose lower brain or midbrain is in control," explains Goulston, "you're talking to a cornered snake or, at best, a hysterical rabbit."
The biggest mistake we make in our ADHD household? Assuming someone is thinking rationally — with our primate brain — when we're not.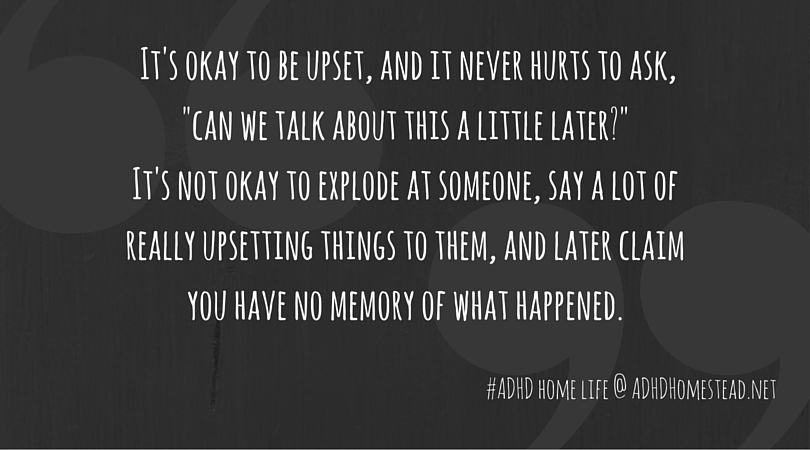 Your reptile brain deserves some space
When I'm feeling like that cornered snake or hysterical rabbit — not sure which is worse — the critical next step is telling myself, you're not yourself right now. Or, more accurately, I'm the last person I want handling an important decision or conversation.
I've learned it's best to honor where I am at the moment and give myself space to cool down. Naming feelings helps a lot. Try it next time you're in emotional or fight-or-flight mode: say — aloud or to yourself — I'm feeling really out of control. That comment was really hurtful. Wow, I'm so angry. Listening to my child cry is sending my stress hormones through the roof.
It's a hard skill to learn, and it requires practice. My brain loves to trick me into justifying extreme emotions or, even worse, sticking it out in an argument despite feeling hysterical.
This is almost always a terrible idea, especially given ADHD's effects on emotional regulation. Emotional control is often lacking in ADHD adults. "Without well-developed verbal and nonverbal working memory," explains Dr. Russell Barkley in Taking Charge of Adult ADHD, "you have less capacity for the visual imagery and self-speech that can help you calm your emotions."
If you're in a relationship with an ADHD adult, this emotional reactivity may be all too familiar. In Is It You, Me, or Adult ADD?, Gina Pera describes "a tendency to become easily frustrated and growl or blow up, but react 10 minutes later with over-the-top excitement to something else."
This describes me to a T. My rational brain can be a real diva. It's ready to walk off the stage at any moment, leaving me to yell the exact wrong thing at my husband, boss, or kid. Once I'm entrenched in a conflict, I forget how I even got there.
It's tough to counter this. The first step is noticing it's happening. Intense emotions are, most of the time, an indication that I need to back off. It's not the time to work through an important issue with my husband, make decisions, or provide my opinion on someone else's behavior. A poor grasp of time makes it tough to defer these things. Right Now can be the only time that feels real.
But defer we must, if we want to maintain healthy relationships. It's okay to be upset, and it never hurts to ask, "can we talk about this a little later?" It's not okay to explode at someone, say a lot of really upsetting things to them, and later claim you have no memory of what happened. My life has been a lot of the former and not enough of the latter, but I'm working on it.
How about you? How do you minimize the damage when your rational brain shuts down?