Sometimes it's hard to keep trying.
January should be all about resolutions and new beginnings, but it doesn't always sparkle for ADHD'ers. Something I read on Penny Williams' Keeping It Real Parenting ADHD & Autism hit the nail on the head: Penny lamented "experiencing the same crap, year after year."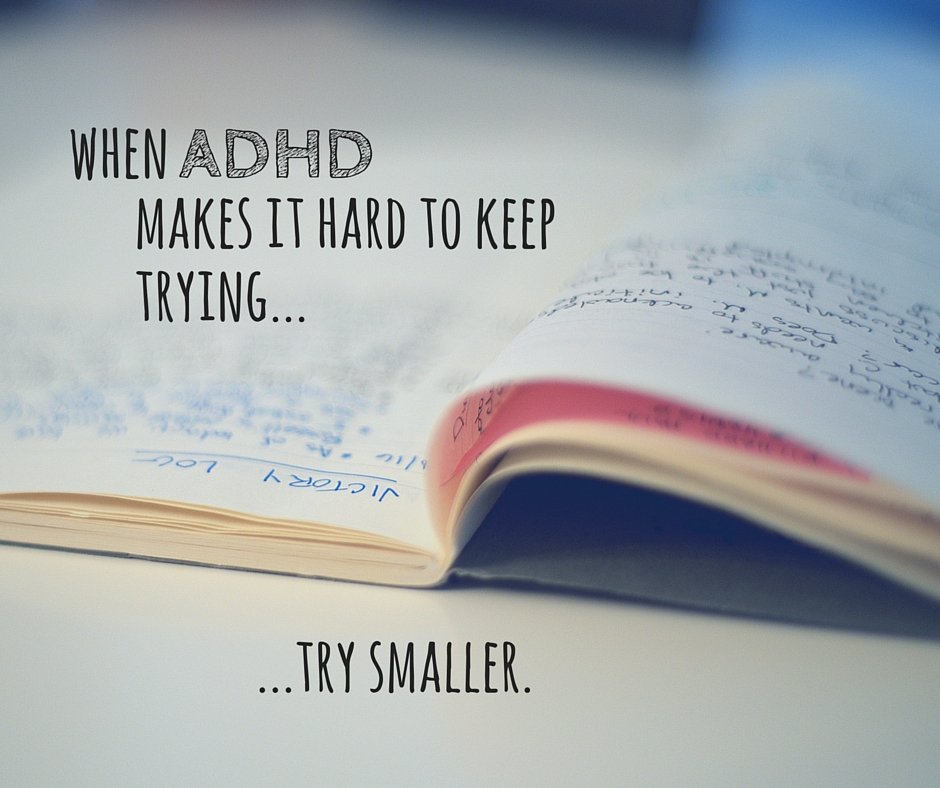 New Years resolutions, support systems, a new way of organizing our lives — all can remind us of failure, past or still to come.
Some ADHD'ers dread sitting down to talk about goal-setting. Some of us get all jazzed about a new to-do list app, but hesitate to use it.
Sometimes it's hard to keep trying.
Many adults with ADHD are dealing with years of accumulated failures. Even if a new idea seems great, we may say, why bother?
Obviously, this is no way to live. How do we keep going, keep trying, keep believing in our own capacity to succeed? We can start by rethinking our idea of progress.
Scale back
2015 was one of my most successful years yet. I solved more problems than I created around the house, moved forward on a major redecorating project, got rid of a ton of clutter, facilitated a monthly fiction critique group, and maintained a regular blogging schedule (among other things).
I did it all by lowering my expectations.
ADHD brains think big. When we bother to set goals, we want them to be ambitious, exciting, sparkly.
At the same time, we struggle to estimate how long tasks will take, and we often forget steps when we're thinking through a process. Our brains don't connect past outcomes with future ones. Wasn't it Einstein who described insanity as doing the same thing over and over and expecting different results? That's us.
If we set the bar too high, we're destined to fail. When I read Stephen Guise's Mini Habits last year, I adopted his too-small-to-fail philosophy. I started setting embarrassingly low goals. I wouldn't commit to working on my novel every day, I'd just open the file. I wouldn't do a full yoga practice every day, I'd just get into downward facing dog. I didn't need to prep the whole dining room for painting, I just needed to touch my sandpaper to one spot of spackle.
And things started getting done like magic. Once I got a taste of success, I gained confidence, and I started retraining my overambitious brain.
Accept small progress
When I set the bar lower, I took on a whole new challenge: I had to become okay with the mundane. People with ADHD don't like this. We like to bite off more than we can chew (when we bite off anything at all). As I get older, the binge-then-neglect style of working on home improvement projects — or any projects, really — isn't working. I'm convinced our 30s exist to teach us the art of juggling more responsibilities with less energy and idealism.
I not only had to [force myself to] set lower goals, I had to make peace with this new idea of success. Yes, I can open my manuscript, close it, and feel okay. Yes, I can run only one mile and feel okay. I can paint a room over the course of four days instead of in one day.
A thousand small steps will get us to the finish line. One or two giant steps, followed by burnout and complete inactivity, will not.
Quantify
My ADHD gives me a poor sense of time and an even worse memory. If I feel like I got nothing accomplished at the end of the week, it says more about my mood at that moment than my actual productivity.
I've started keeping track of small victories: writing a list in my notebook, or even on a sticky note. I want to remember, moments of low confidence, that I checked off an overdue task today, put my kid to bed on time, or invited a writer friend to attend a conference with me.
My husband, a software engineer, set up a ticket tracking server for our house. It sounds weird and nerdy, and maybe it is, but I love logging in and seeing a visual reminder that I've resolved more problems than the house has thrown at me. When my husband gets discouraged about the number of things still left to do, I point to it and remind him that we're making progress.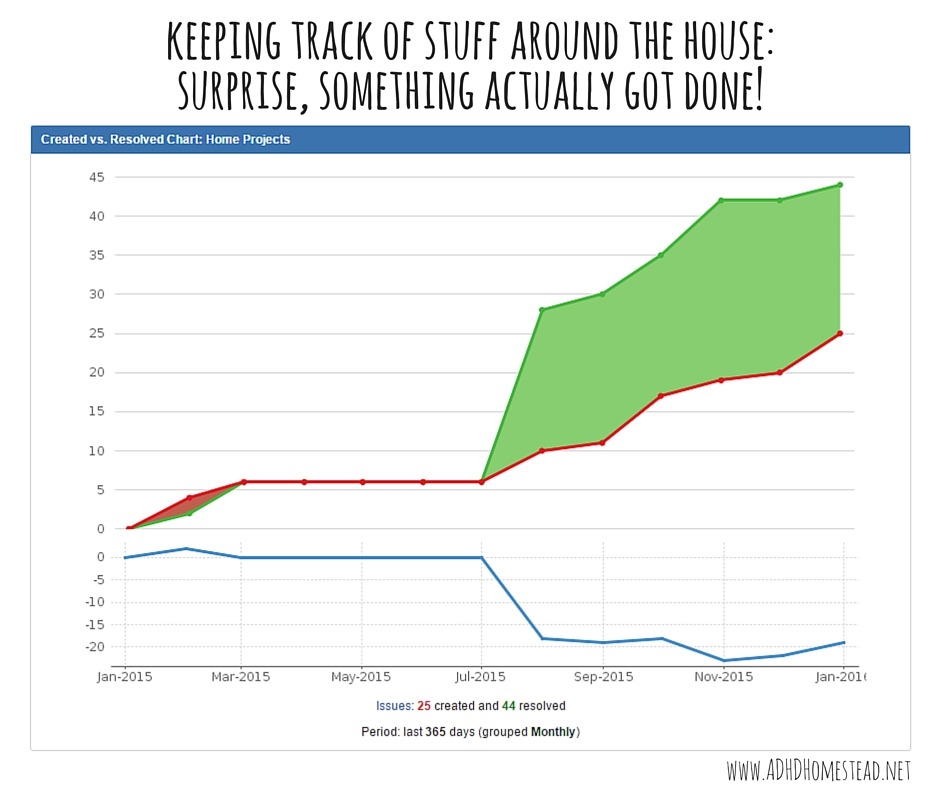 You could accomplish the same thing with a piece of loose leaf on the fridge or, if you're feeling fancy, a spreadsheet.
The point is, in addition to scaling back expectations, it's important to keep track of your progress — however small. It's so easy to lose touch and, in a moment of weakness, assume you haven't accomplished anything.
Once you free yourself from your expectations to dream big, you may find yourself recording a flood of tiny achievements.