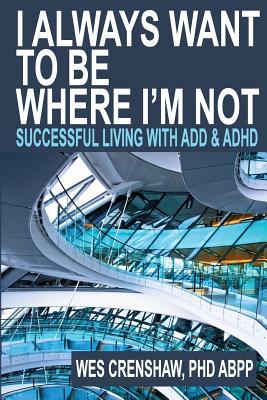 A lot of people I meet just don't get ADHD — I'm talking spouses, parents, even the ADHD'ers themselves.
If you really, truly want to get it, read Dr. Wes Crenshaw's I Always Want to be Where I'm Not: Successful Living with ADD & ADHD. Dr. Crenshaw targets ADHD'ers ages 15-30 — though all ages will benefit — as he outlines his "13 principles" for successful living. But don't mistake it for a mere collection of handy tips: a diverse selection of case studies help get to the heart of what life is like for people with ADHD.
While reading these case studies — one of which opens each chapter — I found myself both laughing and crying. I was impressed by Dr. Crenshaw's ability to capture how this complex disorder really feels for those who struggle with it. This, coupled with his deep knowledge of his subject — gleaned from his own parenting journey and decades of experience in his professional practice — makes his book a must-read if you love someone with ADHD.
Each chapter stands on its own and includes an "is this chapter for me?" checklist at the beginning. Every ADHD person is unique and you'll find some more useful than others, especially if you're over the target age range. However, don't skip the final two chapters: a medication crash course and a "where are they now?" review of the case studies.
While most books about neurological or mental health conditions contain case studies, this was the first time I encountered such a follow-up at the end. I'm surprised more authors don't structure their books this way. Seeing the result of each case study's choose-your-own-adventure journey reinforced the importance of choosing the right (i.e. hard) path over the easy one, developing good habits and coping strategies, and finding a medication regimen that works for you.
Speaking of meds, would-be readers should know Dr. Crenshaw is strongly and unapologetically pro-medication. He contends (and I agree) that medication is a critical tool to implement his 13 principles and become a successful, content, independent adult. Critics may dismiss this viewpoint out of hand, but if you have any feelings at all on the subject, read this book. Dr. Crenshaw's deep care and concern for his clients is evident on every page. Even if you end up agreeing to disagree, his compassionate and well-reasoned approach deserves an open mind.
For those feeling lost, frustrated, intimidated, or curious about ADHD meds, Dr. Crenshaw provides insights that will empower you to seek out the right provider, not just the right prescription, to get yourself into a good place.
Of course, covering 13 principles and the many shades of a grossly misunderstood disorder makes I Always Want to be Where I'm Not an overview, not an instruction manual. Dr. Crenshaw is equipping you to converse intelligently with your loved ones and your doctor. He's not providing an alternative to seeking proper treatment and support for your ADHD. This is far from the last book you'll ever need, especially if you fall outside the 15-30 target age range.
Overall, I Always Want to be Where I'm Not is a fast and easy read that tackles a lot of not-so-easy topics. I never found it too negative, condescending, or dry, and it appealed to the heart as much as the mind. It won't deliver a wealth of practical tips to cure your life's organizational woes — you're better off with something like Getting Things Done or ADD-Friendly Ways to Organize Your Life for that — but it will give you (and those who love you) a much deeper understanding of who you are and why. I'd argue that's a great place to start.