I think I speak for most ADHD-affected households when I say, sometimes we don't bring out the best in each other. In his book Healing ADD From the Inside Out, Dr. Daniel Amen makes a list of games people with ADHD love to play. One of them is, "I bet I can get you to hit me or yell at me." Sound familiar?
Most of the time, this isn't even conscious. People with poorly managed ADHD — or those whose medication has worn off for the day — have trouble regulating emotional responses. They also use conflict to balance out their brain chemistry. Yelling, fighting, or needling someone until they explode provides a boost of dopamine, a neurotransmitter in short supply for ADHD'ers.
Without proper treatment and education, these become lifelong behavior patterns.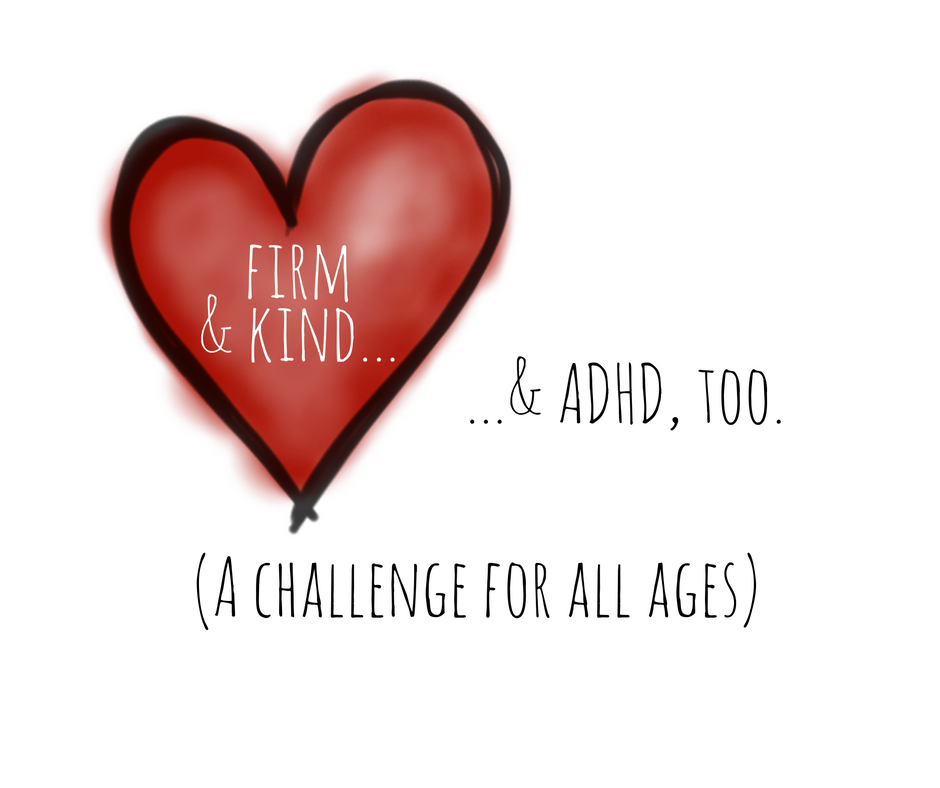 My goal when responding to these behaviors — and I falter often — is to be both firm and kind. Too many people still believe stricter parenting (like we had in the "good old days") is the answer for kids with ADHD. When we see unacceptable behavior, we read a lack of visible, tangible punishment as permissive parenting. To some, firm and kind feel mutually exclusive.
This attitude isn't limited to children: I hear the same about spouses and other adult family members. We don't like to see someone "get away" with bad behavior.
I'm firm, I'm kind, but I don't consider myself permissive with my family. I'm certainly not a doormat. In fact, people often tell me I'm the only person so-and-so will listen to, or they ask why a certain family member behaves better around me. It goes to show: Firm and kind can be strong, too.
Respect for myself
I first discovered "firm and kind" in parenting expert Vicki Hoefle's lovely books and this post on her blog. Her words have changed my life. I feel like I have permission to look out for myself while I care for my family. Returning to Dr. Amen's game of "I bet I can get you to hit me or yell at me," I wonder how much respect I can have for myself when I'm falling right into that trap. In parenting, as in all social interactions, if someone can goad me into a fight, they can control me. If my child can make me late every time we leave the house, he's in control. An out-of-control person doesn't command respect from herself, let alone others.
When I draw a boundary, I show everyone I mean it. It doesn't matter whether the boundary is big or small. I'm firm about reducing the number of days our family spends traveling around Christmas. I'm also firm about leaving for school at 8:45 a.m., regardless of who's still in bare feet.
Giving kindness and respect to my family
At the same time, I try to practice kindness without letting others step all over my boundaries. I don't say, "fine, you spent so long playing around, see how you like freezing your toes on the way to the car!" I say, "okay, time to leave. I'll bring your shoes to the car so you can put them on while we drive."
Simple. Matter of fact. Kind.
Hoefle claims that all children modify behavior based on what earns a reaction. We can deduce that children with ADHD do this to the extreme. When we engage in power struggles, allow ourselves to be goaded into flying off the handle, or allow our child's behavior to control a situation, we set ourselves — and our children — up for more of the same tomorrow. This feels more unkind than letting him get cold toes on the way to the car.
Modeling how I want to be treated
After reading Hoefle's books, my ears became attuned to how parents all around me spoke to their children. Try this next time you're in a public place: Imagine the children as adults. What would you think if you heard someone speaking to an adult that way?
"Firm but kind" reconciles my two minds when it comes to parenting. We can be firm. We can refuse to engage in a power struggle. We can also be kind without letting kids 'get away' with bad behavior.
In other words, we can be respectful without being permissive. We can be kind without becoming a doormat. I apply these principles to everyone in my family, from ages 3-85. I've discovered that the harder it is to get a rise out of me, the more respect and accommodation I get from others. Especially those with ADHD.
Have you struggled to maintain peace and respect in your family? What keeps you grounded?