A reader recently asked: do you have any resources for decluttering or journaling with ADHD?
What a wonderful question to be asked! I write often about organizing because I find cluttered, messy spaces stressful and overstimulating. A chaotic environment begets a chaotic mind, and vice versa. I suspect I'm in good company among people with ADHD.
Along the way, I've written about everything from note-taking on my bathroom mirror to reducing my junk mail, from participating in an online decluttering challenge to getting my visual-thinker husband to put his stuff away.
Of course, I'm a writer, and I've kept a notebook since the seventh grade. I've shared a peek inside my Bullet Journal once, and I'll probably do it again.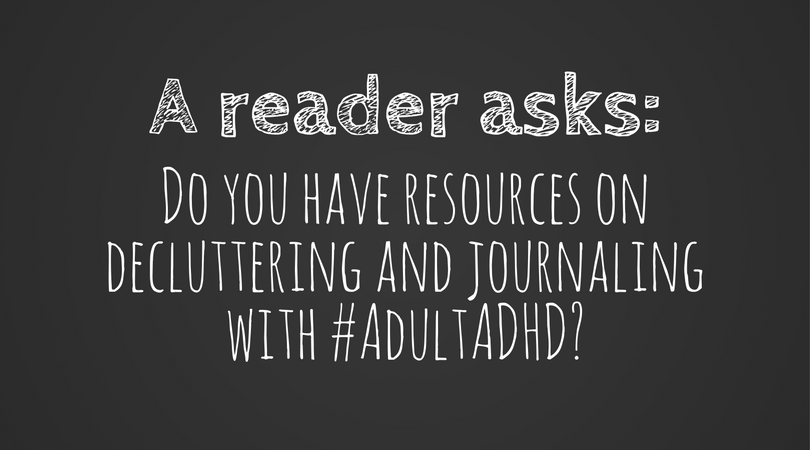 What I'm reading now & what I've read along the way
My journey has been populated with life-changing writing from other people — that's the reason I have so much to write about! I've read a few books about organizing and ADHD, and a few books about organizing in general. I also check in with some favorite minimalism-focused blogs when I need to re-center.
ADHD-Friendly Ways to Organize Your Life was my first ADHD-specific organizing book. I read it years ago, and I recall it being especially useful for visual thinkers. I'm not a highly visual thinker, but I'm married to one, and I've had to learn a whole new world of organizing strategies to combat "out of sight, out of mind" anxiety. Many people with ADHD share this problem. There's also a book called Organizing Solutions for People With Attention Deficit Disorder, which I know I got from the library several years ago but can't remember much about. Rather than breaking strategies out by category, it has a section for each room in the house. It's written by a professional organizer who works with ADHD clients, while ADHD-Friendly Ways to Organize Your Life is co-written by a professional organizer and a renowned ADHD expert. If you can only get one, I'd recommend ADHD-Friendly Ways to Organize Your Life.
As for general organizing books, I got a lot out of Unclutter Your Life in One Week. I received the author's follow-up, Never Too Busy to Cure Clutter, for Christmas, and I'm psyched to read it. If you can't snag the book, the accompanying Unclutterer website has lots of tips, too.
Speaking of blogs, I keep a few in my list to catch up on from time to time. My favorites are Becoming Minimalist and Be More With Less.
If you struggle with emotional attachments to things, or if typical organizing literature feels cold and unapproachable, I recommend Marie Kondo's The Life-Changing Magic of Tidying Up . Some of Kondo's advice feels like a stretch, especially for adults with ADHD, but it's definitely worth a read. It helped me navigate my own feelings of guilt and attachment around stuff I don't use or enjoy anymore.
And now, for what I consider the bookends of my ADHD journey. Many years ago, I read a book called It's Hard to Make a Difference When You Can't Find Your Keys. It changed my life. It doesn't focus on ADHD, though the author does mention it. The writing exercises spoke to me through my love of journaling and writing things down. As I progressed through the book, the text guided me through an inventory of everything my disorganization was costing me — emotionally, physically, and financially. It was a sobering moment, and the beginning of my realization that I needed help. Later, when I sought diagnosis and medication for my ADHD, this quantification of how it affected my life proved invaluable. It's Hard to Make a Difference also taught me, then a recent BFA graduate, that extreme disorganization wasn't an indicator of creativity. I could be a creative person without living in chaos, and I could be happier and more productive.
Finally, I owe the biggest debt to David Allen's Getting Things Done. If It's Hard to Make a Difference turned on the lights, Getting Things Done showed me the way out.
Enough from my library. What are your top life-changing reads about getting organized with ADHD?