My memory is legendary.
By that I mean, I can shock and amaze just about anyone with my ability to forget. No matter if it's information I use daily, weekly, or just once. When I was a kid, I asked my parents this question every time we had pie: "can pie tins go in the recycling?" Through store-bought pies of all kinds, for all seasons, year after year, I asked if each and every tin was recyclable. Every time, they told me. I still don't know whether they told me yes or no.
I do, however, possess a secret weapon. If they'd wanted to shut me up, they only needed to sing to me.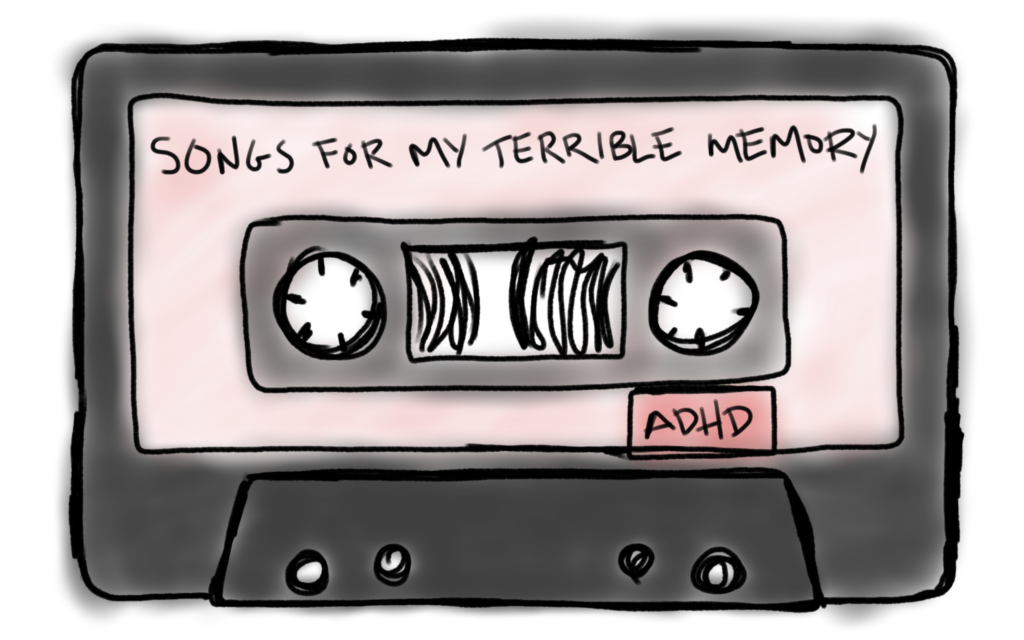 The singing officemate
For several years, I shared an office with a dear friend of mine. He still, to this day, understands music's power over my brain better than almost anyone. At work, he used that to both of our advantage.
Our desk phones required a passcode to dial long distance. I remember everyone having the code written on a note somewhere near their phones. I must've lost mine, and asked him for it, a la the pie tins, every time I needed to make a long-distance call.
One day, he began singing the following to me, in a lilting little tune: "0097310, that's how you dial long distance."
I didn't ask him for the code again. It's been over four years since I quit that job, and more than that since the organization got a new phone system that did away with long distance codes. He sang me a similar song about the username and password to the company laptop.
Mixtape life story
I can also tell you what albums I was listening to at major turnings point in my life. Eighth grade: Weezer's blue album. The summer I was 16 and pining for my not-yet-boyfriend: U2's Rattle and Hum. Two years later, the summer before I left for college and we broke up, I'd moved on to Achtung Baby. Freshman year of college, second semester: The Who's Who's Next. Sophomore year: Dashboard Confessionals' Places You Have Come to Fear the Most. Thursday's War All the Time. Senior year: a Something Corporate mix CD from my roommate. My first year out of college: Arcade Fire's Funeral. The summer after my son was born: Van Morrison's Astral Weeks Live at the Hollywood Bowl and Phish's Farmhouse. It's almost like I've stored the emotions and memories of these times inside the music. Without it, I'd lose my personal history.
Music: the key to my brain
I'm an auditory person. I've always had music in my blood, but I don't even need a melody. I love certain words and phrases, their cadence and ring. I remember voices, even if the people they belong to exited my life half a lifetime ago.
Maybe my emotional attachment to music and sound helps me form better memories. Maybe the affinity keeps my brain engaged and allows me to encode information more effectively. Either way, music unlocks a secret door in my brain. Behind the door lies a rich world of emotion and memory. In a way, music lets me forget one thing, and one thing only: it lets me forget my brain is impaired at all.