Yesterday marked the official start of gardening season here in Baltimore. While some may gripe about the return of weeding and mowing, it comes not a moment too soon for me.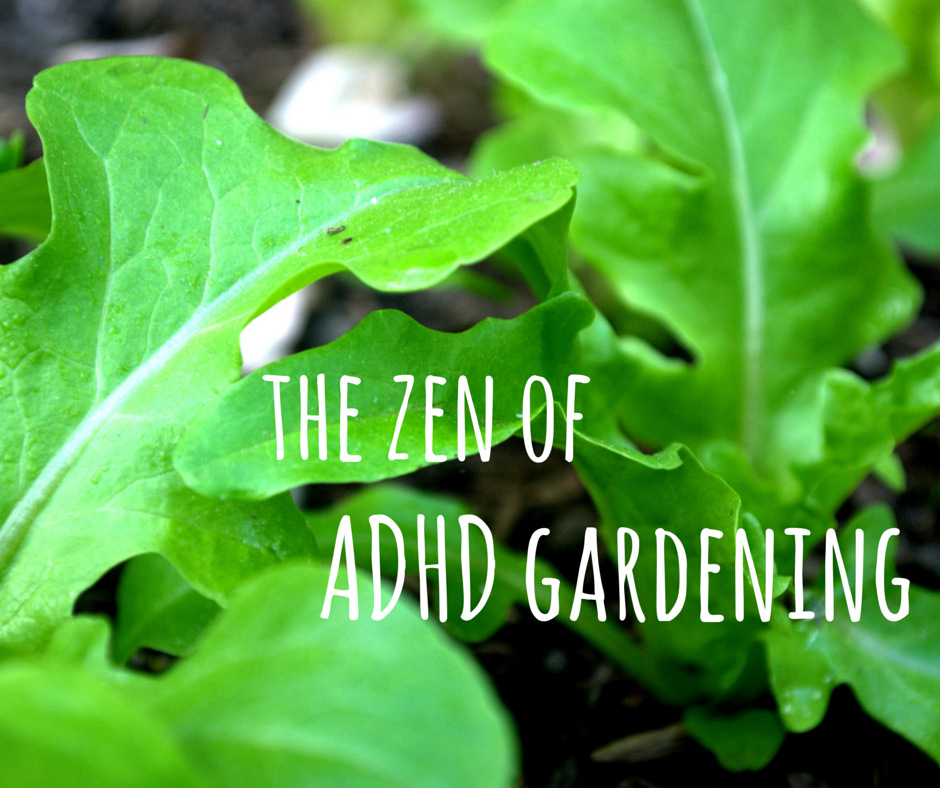 Remember what I said about exercising through play?
If that doesn't float your boat, or if you lack age-appropriate playmates, try gardening. Whenever I need an extra dose of focus, calm, and positive energy, I start with the backyard.
It's no surprise that ADHD adults benefit from getting their hands dirty. In addition to brownie points with your spouse, you get:
A free, productive workout.
Unlike a jog or a trip to the gym, mowing the lawn or digging up the garden creates immediate, visible results. A freshly weeded flower bed or an appreciative spouse will help reinforce the behavior and motivate you to get out there more frequently. So will the sense that you're actually doing something — a feeling you won't get from 30 minutes of treadmill running. For a bonus, consider using manual lawn tools whenever possible. We have a relatively small yard, and I can't get enough of my manual reel mower. If you don't want to give up the power push mower, try turning off the self-propelling feature.

All-natural relief from your ADHD symptoms.
Though most research has focused on children, there are strong indications that acute physical activity improves executive function enough to serve as a complementary treatment for ADHD. Outdoor physical activity provides a double win because exposure to "green" or natural settings may further reduce ADHD symptoms.If you rely on stimulant medication to do the heavy lifting, you may be amazed at the impact increased physical activity and outdoor time can have on your life. Every little bit helps!
A channel for your fidgeting impulses.
Are you the dinner host who gets up from the table every two minutes to refill water, clear plates almost before your guests finish eating, or look for a missing pickle fork? I feel this way when my kid plays outside. I avoid sitting still by pulling stray weeds, filling planters, pruning bushes, and raking leaves.
Instant gratifcation…
There's nothing like surveying the fruits of your labor. The finish line is always in sight, and once you get there, you get a nice dopamine rush when you look at all the work you've just done.
…and a project that teaches you to wait.
That said, you can't rush a garden. Once you plant your seeds, you have to wait for them to sprout. No amount of impatience, all-nighters, or meddling will speed them up. Just don't forget to mist them with water while you're obsessively checking them every afternoon. And gardening doesn't just require patience while the plants grow. Gardening teaches you to slow down and be gentle with those little seedlings. You may not succeed at first, but you'll get it eventually.
A natural high
Getting your blood flowing on a sunny day won't just ease your ADHD symptoms, it'll brighten your spirits. With a boost in mood-enhancing serotonin from the sun and, if you really exert yourself, endorphins from working your heart and muscles, you're bound to feel pretty good when you're done.
So what are you waiting for? Get out and start digging in that dirt!