I received this message from a reader struggling to set up David Allen's Getting Things Done system:
I've tried to set [GTD] up so many times, but I get hung up on contexts. Since I'm a full-time homemaker, everything happens at home. I've tried dividing my list based on my priorities, and I've tried setting it up based on the different rooms of my house. I'm guessing my perfectionism is kicking in, because I can't settle on anything. I get stuck on the contexts and can't make it any further.
What can I do right now? That's a context
I write about GTD a lot, including a book review and a previous post about contexts. Today, I want to talk specifically about contexts in my life as a full-time parent and homemaker.
I'm not just the primary caregiver for my four-year-old son, R. I also maintain our family's home, finances, and social life. Where my obligations to my home and family end, my life as a blogger and fiction writer begins. It's a lot.
Contexts sort my next actions list (aka to-do list) based on what I'm actually capable of accomplishing right here and now. This is critical for anyone, but even more so for me. My kiddo doesn't run the show, but he does impact my ability to get things done at any given time.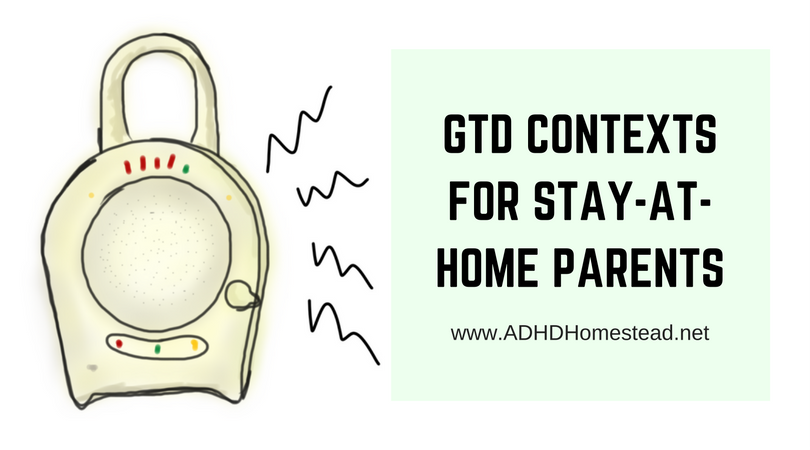 Some contexts depend on others
My GTD contexts have evolved to suit my family's needs. For example, our tools and sewing machines live in our semi-finished basement. Once my son was old enough to play down there, I added a Basement/Crafting context. I'd previously waited to do this stuff until nap or bedtime, and categorized these tasks as House (R. asleep).
Contexts that can refer to others' status include:
House (anytime), House (R. asleep), and House (R. awake), for tasks that require my kid to be awake or asleep (or can be done anytime)
Outdoors, which I pull out while I'm watching R. ride his bike
Weekend, for when I need a lot of uninterrupted time, and/or I can't include R. in the project
Basement/Crafting
Within reason, I can respond to what R. wants to do. If he's asleep, awake, wants to go outside for the afternoon, or wants to play in the basement, I have a list of next actions for that.
Some contexts are all about me
As a stay-at-home/work-at-home parent, I make my own day. This is both beautiful and challenging, especially with ADHD. I've learned to observe my level of energy and focus and adjust accordingly. Sometimes I'm good to sit at my desk and organize our finances. Sometimes I need to burn off steam by mowing the lawn. Once I force myself to make a dreaded phone call, I find it easier to knock out all the calls on my list.
With that in mind, several contexts describe where I am, either physically or mentally:
Computer (any), Computer (desktop PC), and Computer (MacBook), because I have different software on each device
Phone (talking) and Phone (texting)
Desk
Errands
Who am I talking to?
The stay-at-home spouse usually shoulders the bulk of what some call "kin-keeping" duties. I schedule our vacations, plan holidays with family, and keep tabs on what's happening with our friends and relatives.
Adults with ADHD need to manage this outside our heads. Otherwise, we'll lose track of something, and someone will feel angry or slighted. I have contexts for each of my parents, my husband, and my grandmother. When I think, "oh, I need to remember to ask Mom about planning a visit," I enter it as a next action in the Mom context. I reference this list during our weekly Skype call. (Side note: I will forget to check the list unless I make a note on my calendar in capital letters.)
Above all, be responsive
For some people, "home" is its own, complete GTD context. For me, "home" is an environment that changes hourly. Sometimes I'm too tired to sit in my office and work, so I take my tablet to the couch (the Computer (any) context). I can do Phone (texting) while my four-year-old plays with his Legos, but it's better to wait until he's at school for Phone (talking) if I can. Sometimes, when I entice R. to the basement because I need to mend a few pieces of clothing, he gets in the zone with his toys down there. Then, I consult my Basement/Crafting list.
I do have a catch-all Anywhere context, but I use it sparingly, and only for tasks I could truly do anywhere. Example: sketching design ideas for ADHD Homestead stickers (keep an eye out for a Kickstarter campaign featuring those this fall). I always have my notebook, so I can do this in a train station, coffee shop, or even on the beach.
Bottom line: I need to take advantage of whatever kind of productive time I have right now. Contexts ensure I have something to do, regardless of my home's mood and status. That's a big deal, and it's a reason to get my contexts right.
Are you at home full-time? Have you tried GTD? How do you make the most of your day?