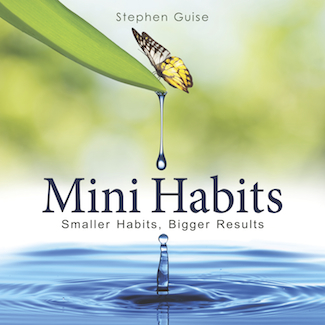 I understand if you read my book reviews every month and think, "yeah, okay lady, but here's the problem: I don't really read."
But you need to read Stephen Guise's Mini Habits. Not just to read more — though that might happen, too — but to change your life, and fast. The audio version will take you less than four hours, and the print version checks in at under 150 pages. You have no excuse not to give it a try.
Mini Habits was such an inspiring read, I talked about it to everyone and anyone who would listen. I bought a copy for a friend just because.
Mini Habits will be revolutionary for many ADHD readers because it removes motivation from our habit-forming equation. If you're still relying on feeling motivated to go to the gym, Guise insists, it's only a matter of time before you fail.
If you have ADHD, you don't need a book to tell you that. You may need a book to tell you success is within (even) your reach.
What's a mini habit?
Guise's simple trick is to reduce your habit to the tiniest possible steps — and keep it there. His inspiration for Mini Habits came from his own success with the one push-up challenge. When one push-up per day morphed into the workout routine he'd previously failed to establish, he knew he was onto something.
Once you remove barriers to entry, you often find yourself willing and able to do far more than the minimum. Now that I'm on the floor for one push-up, for example, why not just do 10?
For someone who often can't find motivation even for enjoyable activities, a mini habit (or two or three) may alter the course of your life.
How to create a mini habit
Guise recommends attempting only a small handful of habits at a time. I'm notoriously overzealous, so I chose three right off the bat. They are:
Open my novel manuscript once daily
(I couldn't set a word count goal because I'm editing a years-old draft)
Open my blog dashboards once daily
Get into downward-facing dog once daily
The most challenging aspect of creating my mini habits was, and continues to be, keeping them small. I struggle not to feel like a cheater when I open my manuscript and close it again without changing a word. I wanted to commit to more than one measly yoga pose.
On this point, Guise (and my husband, who I've enlisted as my in-house reminder) is firm: keep mini habits small. If it feels stupid — aka "stupid small" — you're doing it right. Go bigger and you might feel good today, but mini habits must be attainable even when you're sick, tired, demoralized, or otherwise having the worst day ever. No matter what, you must be able to experience success every day.
Smaller habits, it turns out, do net bigger results: I've been more productive with my writing and even finished my edits ahead of schedule for my monthly critique group. I can now hold crow pose for a whole three seconds, and I'm working up to a headstand in yoga.
Most importantly, I'm experiencing a brand-new feeling: sticking with something. This, Guise claims, is "training to believe in yourself." It's something we ADHD'ers desperately need.
The bottom line
Mini Habits is short, conversational, and simple. Nothing Guise suggests feels overwhelming or out of reach, as is so often the case in self-help literature. Not once did I dismiss advice by saying, "yeah, but I have ADHD."
In fact, the biggest threat from ADHD is my tendency to bite off more than I can chew. Mini habits aren't glamorous or exciting. It doesn't feel good to tell your friends, "I'm committed to opening my manuscript and looking at it every day." Mini habits are as much an exercise in keeping myself in check as anything else.
So what are you waiting for? Pick up a copy right now and share your mini habits in the comments.