We've now completed three weeks of intense decluttering with #LWSLClutterFree. Though my general outlook grew less rosy, I scored a major victory by eliminating a should-have-been-temporary portable closet. Let's check out Week 3's stats.
Days 13-19: Summary
Current projects
Backlog
Total time & completion rate
10/19 projects completed (52%)
3:02 total time this week
8:37 total time this month
The good news
For several years, my clothes have lived in a portable closet in our bedroom, with my husband taking the 'real' closet.
The term "master closet" is actually a bit of a joke for those of us with older homes. Here's what we've got to work with:
The closet is tiny, but my husband doesn't wear all those shirts. I took everything out of the closet, donated what he no longer wears, and made room in his t-shirt drawer for anything that didn't need to hang.  When I finished, I had about 50% of the closet available. Then I moved on to my closet: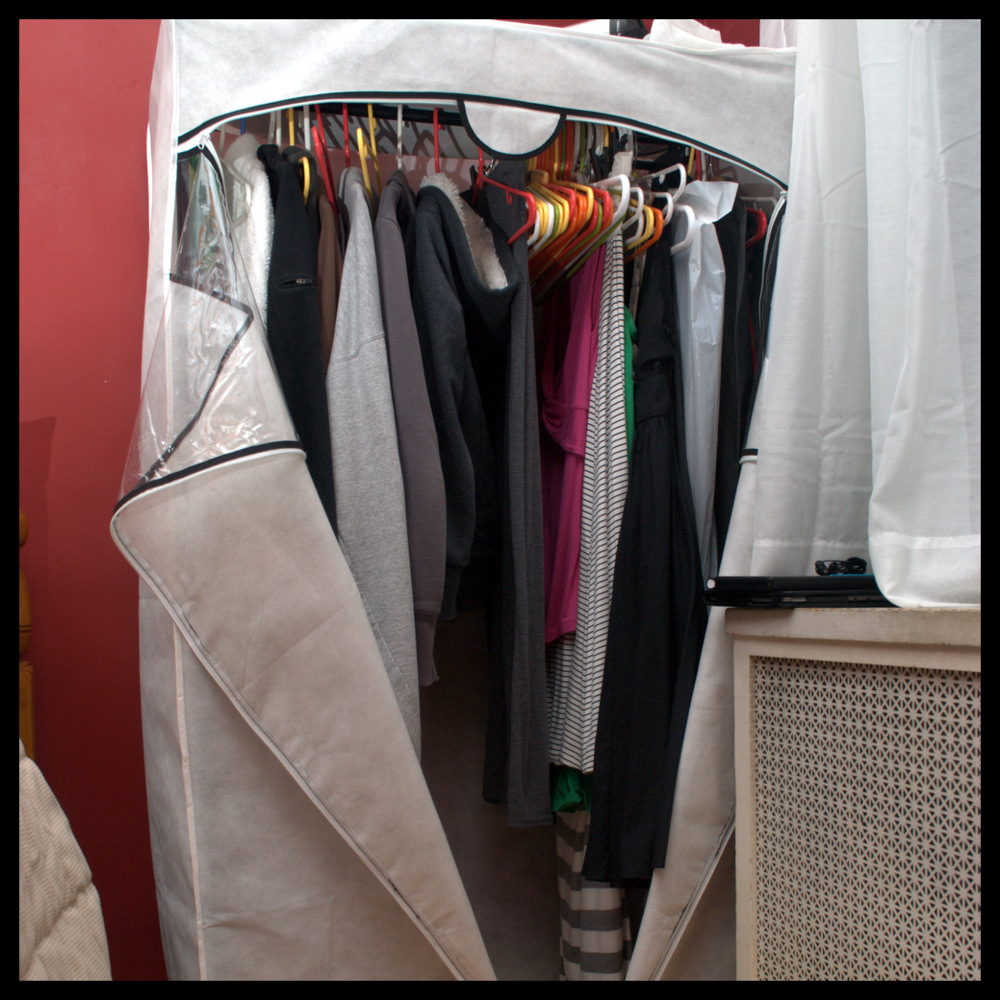 To put it in perspective, here's a view of the whole room:

The portable closet looks untidy, attracts dust and clutter on its top, and prevents my husband from having a nightstand.
I'm proud to report that I consolidated our two closets into one by the end of the hour! I haven't taken the portable closet down yet, but I plan to as soon as I get a few spare minutes.
The bad news
I hit a wall this week. Keeping up with the projects every day has been tough, and by the time midweek rolled around, I was feeling burned out. Not only that, I was behind on basic cleaning upkeep because of all the time I'd spent decluttering.
Certainly not helping matters was the dreaded master bathroom and medicine cabinet. We don't have a master bath, just a shared hall bathroom upstairs, and at the time I used that to rationalize not doing those projects. However, there's more to it than that: our upstairs bathroom is a major sore point for me. It's unsightly, the tile gets moldy faster than I can clean it, the shower barely works, and we're currently planning a remodel. Given my burned-out mindset, it was just too easy to say, "I'm going to take a sledgehammer to it soon enough anyway, so why bother?"
On the bright side, I spent around 90 minutes packing up decluttered items for a yet-to-be-scheduled donation pickup, taking photos for stuff I wanted to give away or sell, and posting those photos online. I've already made $15 and gotten several items out of the house!
Conclusions
The workload here is definitely more than I can handle comfortably. We've had some extenuating circumstances this month — medical stuff in our own household, plus some traveling for extended family — but most families can say that about most months.
Some of the projects were great one-day affairs. For example, a single closet or a junk drawer. Others, like the bathroom, intimidated me before I even walked through the door. Yet others didn't allow for selection and purchase of a new storage or organizing system. This could take an hour on its own — at least, I think it could. Condensing "create functional storage" into one checkbox was enough to scare me off entirely.
For ADHD adults, many of these assignments will take more than one hour and possibly more than one day. This leaves the door open to burnout, unfinished projects (which breed clutter), and a feeling of failure at the end of the month.
That said, as long as I keep up with the more manageable projects and schedule a donation pickup soon, I'll still come out far ahead of where I started.
Have you been participating in #LWSLClutterFree this month? Please share your experiences in the comments!