Despite some external setbacks, #LWSLClutterFree started off on a positive note. Family circumstances required us to travel more than we expected to this weekend, so I'll have to catch up next week, but I'm not discouraged. Learning to create balance and deal with disruptions is part of the process.
One of my biggest apprehensions about the #LWSLClutterFree challenge is that ADHD adults will struggle to keep projects within the 30-60 minute daily time budget. So far, so good, but I'll have to work hard not to overextend my time or energy resources.
Days 1-5: Summary
Day 1 (Wednesday): Ground Rules
Day 2 (Thursday): Entryway
Completed in 1:17 with medication
Day 3 (Friday): Mail
Completed in 0:05 with medication
Day 4 (Saturday): Living Room
On hold (traveling)
Day 5 (Sunday): Books & Magazines
On hold (traveling)
Total time this week: 1:22
I'm excited to get back on the wagon tomorrow (tonight is for unpacking and sleeping), especially because our book situation needs some attention. I'm also thankful for my freebie on Thursday. Our mail system already works pretty well — plus it's part of the entryway we cleaned on Thursday — so I just added a "to shred" basket to my shopping list.
Work day #1: A case study
When I received my first assignment, I thought my day's work was done. I've already put some thought into this area because it's where we stage our shoes, coats, keys, and anything that needs to go out the door with us.
However, #LWSLClutterFree is a great opportunity to reexamine spaces we take for granted.
I'm committed to taking 100% honest "before" photos — nothing moved for vanity — so here's a pre-decluttering shot of our entryway.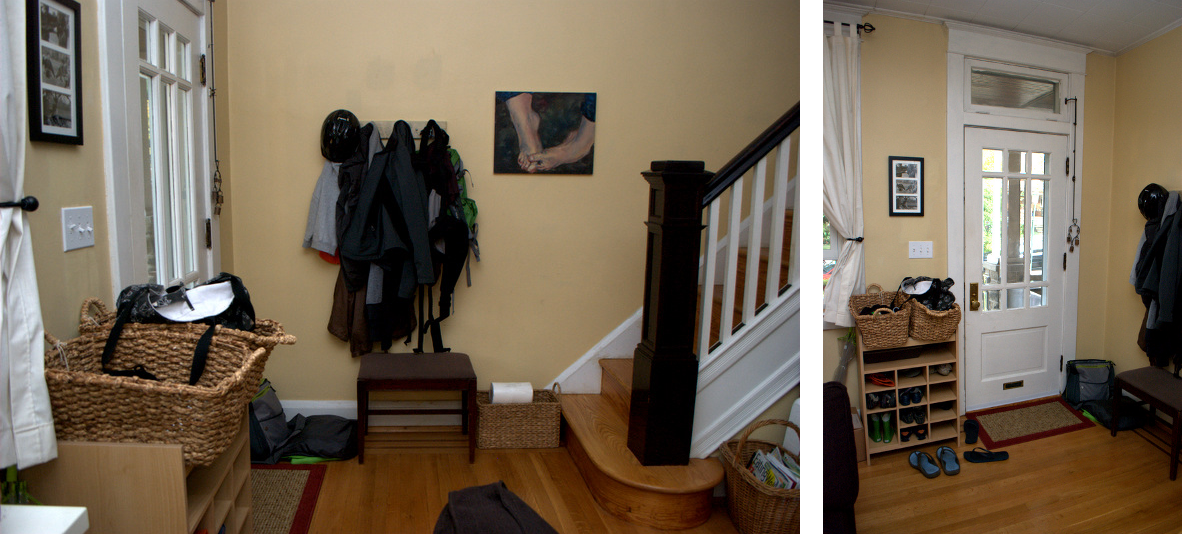 I began by emptying the entryway corner, even moving the furniture out of the way so I could do a thorough cleaning. To my surprise, I found a lot of stuff that didn't belong. I eliminated everything in the photo below from our small entryway.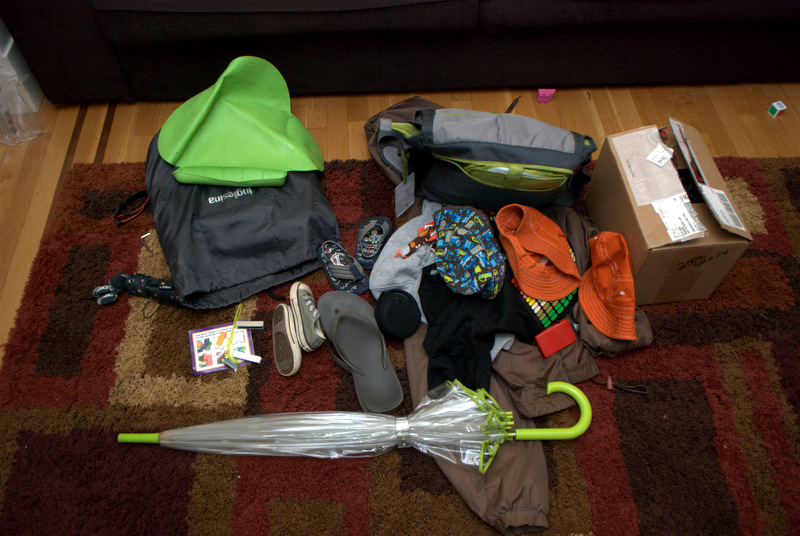 Even though all I did was remove a few items and clean the floor, baseboards, and door, I was amazed at the change in how the space felt. I hope to continue making our spaces more open, welcoming, and well-considered as #LWSLClutterFree progresses.
As a bonus, I hung a new picture above our coat hooks. The original painting was only there by happenstance: it came in the door with us on moving day and the previous owners left a nail in the wall. When I looked at our entryway objectively, I realized its placement felt illogical. I already had the collage frame filled and waiting for a home, so all I needed to do was install hooks and hang it up. It looks lovely above the coats and reminds me of some of my favorite people.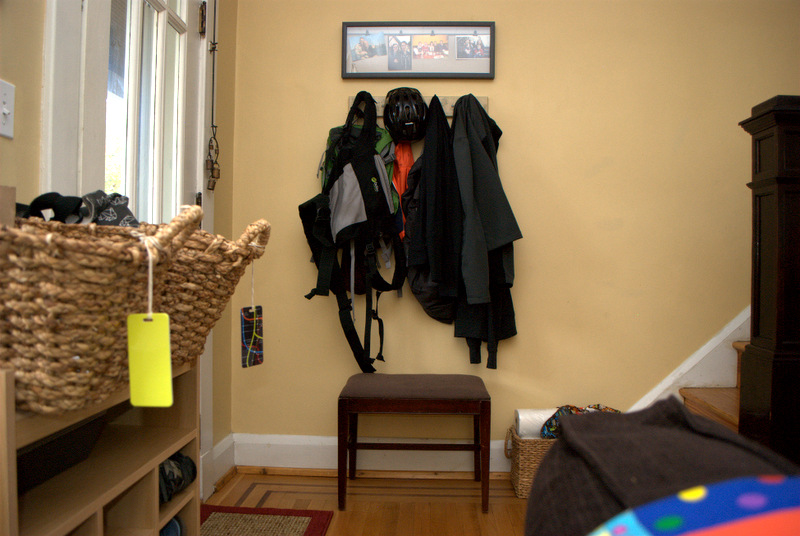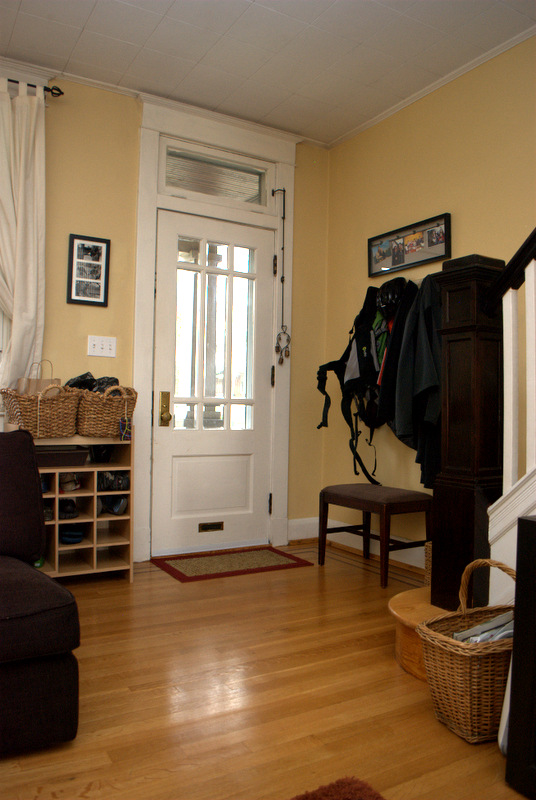 While this assignment exceeded the 30-60 minute budget Rachel told us to expect, hanging the photo frame on the brick wall took 25 minutes. If I remove that from my time (it's not on Rachel's checklist), the total goes down to 0:52. This includes getting cleaning supplies out and putting them away, sorting through purged items, and distributing those items to the trash a more appropriate storage place.
My toddler also "helped" the entire time. I just gave him a rag and a pretend dustpan and brush and let him go to town. He only undid some of my sorting piles, and being able to complete a project while he's awake is a huge plus.
Conclusions
Considering our travel needs, Week 1 was a success, but I haven't been put to the test yet. The entryway project took me just under an hour, and it was already relatively well-organized. Our books and magazines are less so, but still not a disaster. We'll see how I fare with them tomorrow. I feel like some spaces in our home — like the kitchen, laundry area, or office — exceed what I can take on in one day. The key to tackling this overwhelm will be dividing it into several days or isolating a high-impact sub-project.
I'm sure I'll have more ADHD-specific insights on #LWSLClutterFree as Week 2 comes to a close, but my initial impressions are mixed. The checklists are excellent for staying on track and defining a start and end to each project. I appreciate the regular reinforcement of values to remind me of the big picture. However, I'm concerned that 30-60 minutes won't be enough to conquer some of the problem spots that can develop in the average ADHD homestead. A greater daily commitment may be infeasible for most.
That said, I'm really looking forward to the rest of the challenge. With the right structure and guidance, #LWSLCutterFree might show ADHD adults the tremendous impact they can make with just an hour or less per day. Here's to another week of cutting the clutter!