I rarely talk about products here. When I do, I'm sharing something I find particularly helpful. I haven't been contacted by Epilady, nor did I get anything for free in exchange for this post.
Personal grooming can be a problem for adults with ADHD. Showering, shaving, clipping toenails, etc. — often, these are tedious, unpleasant tasks. We need to complete them on a schedule. No one with ADHD excels at that.
Hair removal is the bane of my existence. I'm sure a few other women with ADHD feel similarly. My skin is sensitive, I struggle to make time for it, and it's easy to procrastinate. However, I've finally found a solution: an epilator. It's relatively inexpensive, not too messy, easy to do at home, and lasts longer than a day or two.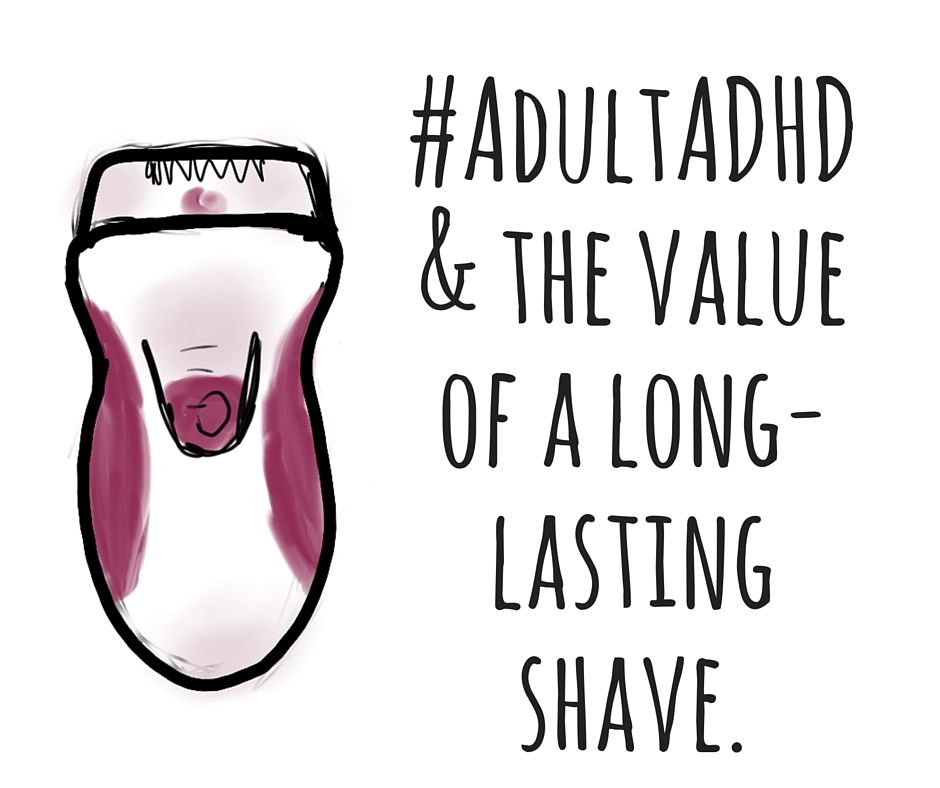 What's an epilator?
Epilators — a whole class of shavers, though I've only tried the Epilady — look like electric shavers, but work like wax. They remove hair by the root, like a high-speed mechanical tweezer. The manufacturer promises results lasting "up to 4-6 weeks."
My first pass took over an hour, but didn't feel more cumbersome than a thorough job with an electric shaver. Subsequent touch-ups took only a few minutes. I'm much more likely to make time for these touch-ups, knowing the results last longer than an electric shaver's 36-48 hours.
My initial epilation lasted around two weeks — shorter than the claims on the box, but longer than shaving. I suspect people with silkier hair textures will see results closer to the one-month mark, and lighter colors won't worry as much about stubble.
In any case, I've been using my Epilady frequently and with confidence. It irritates my skin less and lasts longer than a regular shave.
Doesn't it hurt?
You may be thinking, "it sounds like it hurts!" If you've ever used an electric shaver and felt it catch, rather than cut, one of your hairs, you already know what a first-time epilation feels like. On the front of my shins, it felt like a constant bee-sting sensation. Afterward, my hair follicles were swollen and red for the rest of the day.
Maybe yoga has taught me to be more in tune with my body, but I needed time to relax after I finished epilating. I felt a little funny: woozy, in the same way I get when my blood pressure runs too low. I drank a lot of water and sat down for a while, and that seemed to help.
On the bright side, subsequent epilations were/are far more comfortable. Two weeks after my first round, I hardly felt it on my shins. Not only that, unlike an electric razor, the Epilady doesn't irritate my skin. I don't need to worry about going over the same patch of skin too many times, nor does the humidity (inescapable in our climate in the summer) cause issues.
Why the Epilady is right for this ADHD lady.
I've tried pretty much every at-home hair removal technique, with little success. Traditional razors required more time in the shower, and they irritated my skin too much. Inattentive moments led to bleeding cuts. My electric razor caused less irritation up front, but didn't shave as closely and still caused ingrown hairs. Both provided results that lasted, at most, 48 hours before I had to start the whole process again.
Depilatory creams (e.g. Nair) gave me chemical burns and/or smelled too icky. Wax was messy and painful, which meant I rarely got around to doing it. Some at-home wax kits also irritated my skin, leaving a red rectangle where the wax strip had been.
While the Epilady causes a lot of initial discomfort, that seems to fade quickly. At $70, my Epilady Legend wasn't the cheapest thing around, but saves a lot of money over disposable products or professional waxing. I also appreciate the option to use it corded or cordless. I forget to charge things, and I'm glad not to need a backup option.
Most of all, I appreciate the convenience. Convenience trumps everything in ADHD households. Without it, important jobs — and certainly shaving one's legs — don't get done. Just knowing I won't have to use it again tomorrow makes me excited to use the Epilady. The long-lasting results give me more leeway on when I "shave." I spend far less time feeling uncomfortable, either because of skin irritation or pointy stubble.
If you're willing to endure a painful first day, the Epilady could change your personal grooming routine forever.
Have you tried a product like this? How do you manage the mundane world of personal grooming?