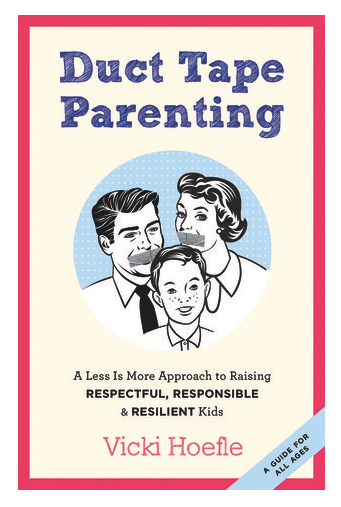 Do you yearn for less chaos, more connectedness, and a more fulfilling life with your children?
Duct Tape Parenting: A Less Is More Approach to Raising Respectful, Responsible, and Resilient Kids might turn your current parenting philosophy on its head. Or it could reaffirm what you've always believed but never translated to reality.
Reading a parenting book may feel like a chore, but it can be a game-changer for ADHD families. Agreeing on a consistent strategy with buy-in from both parents will generate immediate rewards. You'll also gain a common language to discuss those inevitable parenting challenges. As a bonus, parent educator Vicki Hoefle's suggestions for family meetings, road maps, and sharing appreciations will benefit everyone — not just kids.
Duct Tape Parenting's central conceit is that kids need autonomy and responsibility. Also, attention of any kind — negative or positive — reinforces their behavior. Our job is not to nag and con children into doing the right thing, it's to guide them toward self-actualization.
Hoefle's hands-off approach requires a paradigm shift and a willingness to endure messes and imperfection. It also helps kids develop resiliency and executive function that will set them up for a lifetime of success. Perhaps most important, it takes the pressure off of us to keep the whole family organized.
Duct Tape Parenting will be difficult for ADHD adults. That duct tape in the title? It's for you. In other words, success with Hoefle's method relies on impulse control at just the moment when restraint feels most difficult.
Don't give up, though — it's worth the effort. Parents with ADHD will love the end result: a family where everyone contributes according to their ability and takes responsibility for their own needs.
Once you step back and let your kids show you what they can do, you'll be amazed at how capable even young toddlers can be. Divvying up responsibilities and letting your kids take ownership of daily activities saves you a lot of grief trying to keep track of everything on your own.
Teaching kids to be resourceful and independent will also give them a boost in executive functioning skills — a gift that will benefit ADHD kids for the rest of their lives. A parent who coaches, nags, reminds, and bails out an ADHD child robs him of a safe, supportive environment to learn coping and organizing skills. He'll need to succeed without you eventually — now is the time to let him practice, make mistakes, and build his confidence.
While Hoefle lays out a solid, sensible, high-impact plan for family effectiveness, I found a few key points missing. For one, Hoefle doesn't thoroughly address behavior management in a  social group. Children are often part of a regular social group with its own expectations and norms. What if my two-year-old spars with a friend's toddler over a toy and we have differing ideas on how (and when) to intervene?
My weekly playgroup might be open to discussing these issues. One-time events like trips to the playground or birthday parties present a different challenge. At some point I'm willing to let my child lose a friend over poor behavior, but preschool seems too young. I would've appreciated advice on how to guide my child's behavior in a group setting without being overly directorial.
Speaking of age, too many of Hoefle's anecdotes omit the child's age. How to implement Hoefle's ideas at each stage of childhood is largely left up to the reader.
Overall, Duct Tape Parenting is worth a read for exhausted ADHD parents everywhere. Fair warning: Hoefle's tone can be off-putting. She begins the book by pointing out far more problems than solutions and has a habit of quoting herself at the beginning of chapters. Parents already feeling downtrodden may find themselves feeling more so, and attachment parenting devotees may not make it past Chapter One.
I hope these issues of tone and structure won't discourage too many parents from finishing the book. It will change the way you view your job as a parent and lead you to a more fulfilling life with your family.
Any other duct tape ADHD parents out there? Please share your experiences in the comments!