It can seem like a favorite pastime for the over-30 set: we commiserate with friends — almost always same-gender, often accompanied by alcohol — about our spouses' foibles.
We've all done it, and we've all nodded along while someone else aired their grievances. In the sober light of day, we might wave this grousing off as harmless. It's not, especially when someone in the relationship has ADHD. Taken too far, it can be as toxic as the ADHD itself.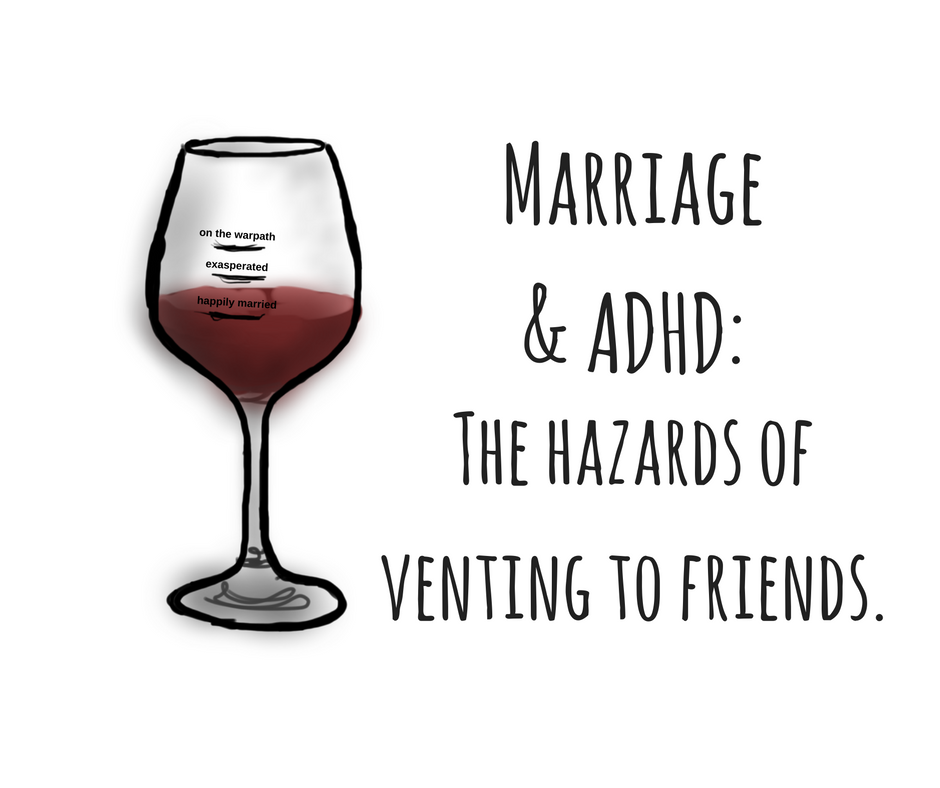 Here's the problem: We view the world through our lens, and others through theirs. It's easy for neurotypical third parties to misinterpret ADHD behavior. A well-meaning friend may jump to our defense, labeling our ADHD spouse as abusive or manipulative, selfish or inconsiderate. Surprisingly few ADHD behaviors are intentional or calculated, but most of the world reads it that way. We may read it that way. Our friends, eager to support and defend us, reflect it back.
To clarify: I'm not condoning bad behavior. Poorly managed ADHD can make the whole family miserable.  I'm also talking about my own experience in a normal, loving, ADHD-afffected relationship. ADHD affects all kinds of people, including selfish, abusive jerks. I'm not married to one of them.
ADHD hides other sides of the story.
ADHD can color the way I perceive and react to domestic negotiations. Last fall, I wrote about the challenges of being a workaholic homemaker with ADHD. I lamented the loss of our twice-monthly cleaning service, which was supposed to be temporary but which I tried to make permanent. I wanted more time to write, and I thought paying a cleaning lady could give me just that.
Imagine me telling this story, fresh off the original confrontation with my husband, to a supportive stay-at-home mom friend. What might she say? That my dreams are important, too? Who is my husband to deprive me of this over a relatively minor expense? That it's 2016, and he shouldn't expect a woman to be a full-time homemaker while he continues to advance his career?
Here's the truth: My husband is incredibly supportive of my writing on a daily basis. This summer, he took time off from work to stay with our son while I attended a writing conference. He didn't think twice about spending the money on the conference, nor did he complain about staying home with R. He has complete faith in me and admires my dedication to my work. As for which parent stays home, he would've been happy to do it. Our decision was made on the basis of money and, at some level, who was more in control of their ADHD symptoms.
Here's another truth: Being a homemaker for an ADHD household takes a lot of time and effort. Having ADHD myself makes everything harder. When a spouse has ADHD, the other partner usually picks up slack from them, too. I'm pulling more weight than the average stay-at-home mom, plus I have my own impairments. Not only that, my ADHD hinders my ability to roll with the punches. I had more trouble dealing with the argument about the cleaning lady than the loss of her services.
If I lack adequate time to write, the culprit isn't ideology, it's poorly-managed ADHD. I shouldn't be asking for a cleaning lady, I should be demanding that X, Y, and Z ADHD symptoms be brought under control. Most important, I should wait for a calm moment to plot my way forward. The problem is, I doubt that's what a girlfriend would tell me over a glass of wine.
Don't judge: our worst is the worst.
The bottom line: our family is mutually supportive and egalitarian, and we're doing the best we can. We make mistakes, we overreact, but we apologize an move on. We know and honor each other's true selves. Both my husband and I admit we have ADHD, admit it's a problem, and make an effort to manage the symptoms that negatively impact others.
ADHD happens to good people, and it can make us look bad. In our worst — usually unmedicated — moments, we can look downright monstrous. I've dealt with this all my life: an outburst, a temporary loss of myself, an irrational response, and suddenly that's what defines me in someone else's eyes. It feels awful, and it's why I try not to complain about my husband to my friends. Because he's a great guy, and most of the time my life feels inappropriately fortunate. He's my family. I don't want ADHD to define him as anything other than that.
Do you struggle to be fair to your partner while satisfying your need to vent? What have you learned?