ADHD sabotages marriage relationships on (at least) two fronts: the emotional and the practical. One can precede or exacerbate the other. Sharing domestic responsibilities is far from mundane. When we feel unsupported — or worse, cut off at the knees — by a partner, our relationship can drift toward a parent-child dynamic. Not good news for emotional intimacy.
Partners of people with ADHD often complain about division of labor in the home, but it needn't remain a sticking point. It's easy to restrict ourselves to two options: continue to nag and get angry, or do it all on our own. Our ADHD household has taken the road less traveled. The house stays relatively clean, most urgent maintenance is addressed in a timely manner, and the bills get paid. Sometimes friends look at me funny, and one fellow at-home parent even told me, "I'd never put up with that [behavior]." But it's not about "putting up" with anything. We've figured out what works for us, and we're doing it.
If you're struggling to maintain domestic peace and basic sanitation, you're not doomed. You just need to figure out what works for your family. This often requires us to reject gender norms and other meaningless expectations. We need to experiment, be realistic, and find our ADHD superpowers.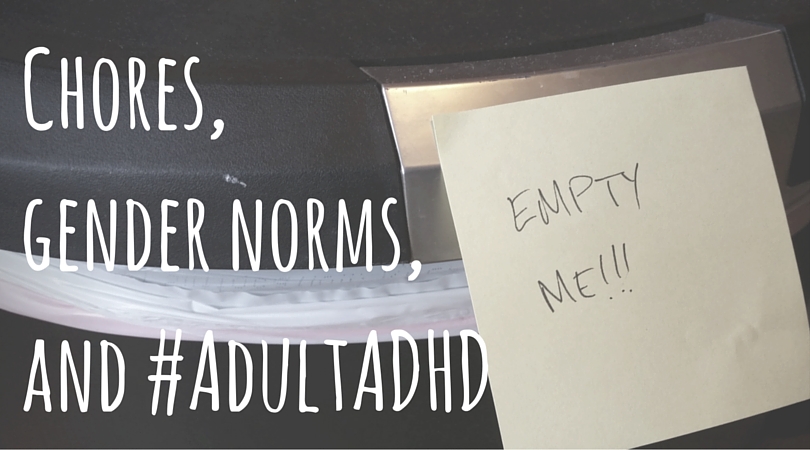 What's your ADHD superpower?
ADHD superpowers aren't gifts. ADHD doesn't make us special or superior. In his book, I Always Want to Be Where I'm Not, Dr. Wes Crenshaw describes superpowers as places we depart from the diagnostic criteria. For example, ADHD'ers are stereotypically terrible with money. I'm not. I could write a series of posts about finances, and maybe I will someday, but for now, know this: no matter how small my paychecks, I've never been broke. ADHD has crippled me in other areas, but not my bank account. ADHD superpowers are more like dodged bullets than gifts.
At home, this means my husband and I — both ADHD'ers, but very different people — break down responsibilities by strengths, not tradition. His perfectionism and hyperfocus — sometimes a terrible Achilles heel — makes him a great fit for jobs that require a fine touch. My ADHD makes me the bull in the china shop. That same hyperfocus makes my husband completely time-blind. If something needs to happen at a specific time, it's my job: taking out the trash, verifying bills are paid on time, mowing the lawn. I rarely force myself to do nit-picky jobs, but if I get him started, my husband can't put them down until they're done. He won't vacuum without moving all the furniture, and he'll spend an entire day tracking down an error in our accounting ledger.
You may have noticed, I end up with many of the "man" jobs. I need physical activity to function, and my body type makes me the muscle of our small operation. My husband is the engineer. He's the person reminding me to slow down and make sure the job is done right. Dividing tasks along gender lines feels arbitrary at best, intensely frustrating and counterproductive at worst. Why set each other up for failure? Why not let everyone have the job they want? Both failure and success have inertia, dragging us toward learned helplessness or self-efficacy. We choose the latter, even if people look askance at a woman mowing the lawn.
Experimentation is key.
Our household may be up and running now, but we learned most things the hard way. For example, we began with my husband managing our online bill-pay accounts. He insisted mailing payments was antiquated and silly, but since it worked for me, I told him, "you want a new system, you set it up." He did. We stopped getting bills in the mail because he got them via email. Would you guess that someone with ADHD can both forget to log into his bank's bill-pay system and get behind on his email inbox?
These snags are best dealt with calmly, without finger-pointing. If your ADHD partner lets the grass grow knee-high or forgets to pay the electric bill, he knows it's a problem (even if he won't admit it). She feels bad about it (even if she won't admit it, or even blames you). When we hit a snag, I try to remember it's a clue to a puzzle we need to solve. Yelling at your spouse, expressing disappointment and shame, or telling her she needs to act like a responsible adult only damages the relationship.
May all expectations be realistic…
Above all, an ADHD household needs realistic expectations. This doesn't mean resigning ourselves to a lower standard of living. It means being realistic about which responsibilities our partners can take on and how they'll get the job done. Forcing a square peg through a round hole is a recipe for argument, resentment, and less stuff getting done. What works for me rarely works for my husband, and vice versa. Rather than dwell on the downsides, we use our strengths to fill in for each other's weaknesses. My husband may never take the trash or recycling out on the correct day, but it's all good. When I encounter a problem in the house and think, "I can't even imagine dealing with that," he's my man.
Do you or your partner have ADHD? How do you manage household chores? Do you feel like you've hit your stride, or are you still looking for a solution?