Full disclosure: I received a copy of this book in exchange for my honest review.
The Insider's Guide to ADHD presents a unique perspective on parenting young ADHD'ers. Through a  survey of 95 ADHD adults, author Penny Williams shares dos and don'ts from those who should know best.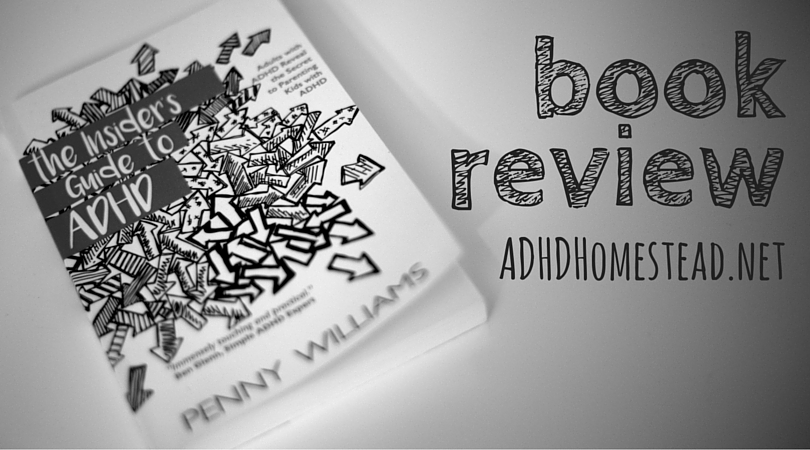 I expected Insider's Guide to read like a collective memoir, but it's more informed by survey responses than driven by them. You won't find case studies or lengthy anecdotes. Direct quotes from the survey are generally short.
Williams has built a successful brand by writing from her perspective: a dedicated mom without ADHD, learning obsessively through research and real-life experience. She retains that voice in Insider's Guide, drawing heavily on her own experiences along with survey responses.
Insider's Guide teaches solid parenting strategies and steers readers away from the old-school parenting style many of us grew up with.
Williams offers these critical messages for parents of kids with ADHD:
Even lovely, supportive parents can unwittingly leave their kids feeling doomed to failure.

All kids need to learn self-sufficiency, and helicopter parenting sabotages future success.

Shame and punishment aren't effective for creating long-term positive change.

Figuring out the right medication and dosage can be a life-changer.
Depending your current parenting and communication skills, Insider's Guide may or may not help you. It's a crash course, and Williams covers many of the same points as previous books I've reviewed — How to Talk So Kids Will Listen & Listen So Kids Will Talk and Duct Tape Parenting — but in slightly less depth.
These books pack more concrete examples, high-impact testimonials, and quotes from parenting experts, but Insider's Guide makes an excellent sell to the skeptical or uninitiated. Williams offers testimony from real people who've lived through a childhood with ADHD. There's overwhelming consensus on what works.
I especially appreciated this quote from a mom with ADHD: "I never liked the thought of medication for my child, but it made such a difference in my own life, I could not hold that back from maybe giving my child a chance to feel like days can be easier." Parents are faced with overwhelming, complex choices. This illustrates beautifully what ADHD adults bring to the table.
One cautionary note: Williams represents survey results with visual aids throughout the book, but don't extrapolate these to all adults with ADHD. The survey's sample size is relatively small, at 95, and overwhelmingly female (78.1%). While it's great to see women with ADHD represented, this doesn't reflect the overall demographics of ADHD adults.
That's not to discredit the insights Insider's Guide has to offer. It's just important to consider sample size and methods used when applying survey results to the population at large.
Insider's Guide starts a necessary conversation. Awareness of ADHD is growing, and those of us who attended elementary school in the 1980s and 1990s — when ADHD and stimulant medications really became household names — now have children of our own. It's time to explore how our childhood experiences can influence our parenting. I'm glad to see a book on this topic, and I hope it opens the door to bigger and more ambitious projects in the future.
Bottom line: if you're stuck in a negative parenting rut and haven't enjoyed books targeting neurotypical kids, Insider's Guide is a great place to start. If you've already read How to Talk and Duct Tape Parenting, expect a repackaging of those ideas through the ADHD lens.
How about you? Have you read Insider's Guide, or do you have another book to recommend? Please share your thoughts!