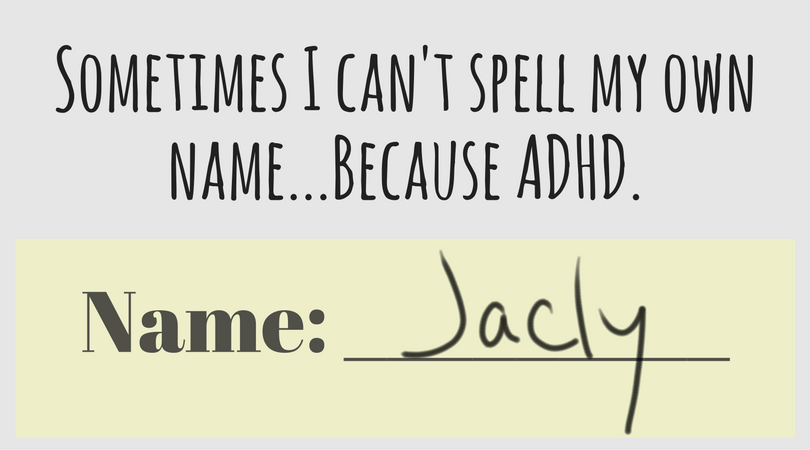 I've never had real a nickname, but my dad sometimes called me "Jacly" when I was a kid. The joke started when I forgot the last letter of my name at the top of a school paper.
Fourth-grade Jaclyn knew how to spell her own name — obviously — but my attention span wasn't always long enough to write all six letters.
It still isn't. I still catch myself writing "Jacly" on official documents. I also forget words in sentences, or I write words with the letters out of order. Occasionally, I find post-it notes with sentence fragments or unlabeled telephone numbers. I got distracted before I finished writing, and now I can't figure out what they mean.
In the moment, I don't realize these attention lapses are happening. There's no way I can tell myself, "hey, focus!" and prevent them. I call myself detail-oriented. I'm proud of my ability to fill out forms correctly and completely. Still, I make weird mistakes all the time — especially when I'm writing by hand.
I don't remember whether I liked my dad calling me "Jacly." I can see myself appreciating that someone gave me a nickname. Just as likely, I might've gotten my hackles up. All the anguish I remember from my childhood stemmed from my ADHD, though I had no idea at the time. ADHD's quirks and foibles — like misspelling one's own name, or throwing a third-grade classmate on the floor after he cuts in line — can come to define us. And that hurts. Maybe it's who we are, but it's not who we feel we are.
That dissonance haunted me all through my young life. I wrote in my journal about a desire to leave home and start over. I hated going to school knowing everyone had an opinion about who I was. I didn't feel like I fit others' definitions of me.
I still struggle with this, but I try to keep a sense of humor. I try to look for opportunities. Every time I write "Jacly," I smile and hear my dad's voice as I go back to add the 'n.' I try to view mistakes as opportunities to show my real self: someone who's neither selfish, nor irresponsible, nor slapdash. I do that by admitting my mistakes, apologizing when necessary, and acknowledging how my actions affect others. I'm upfront about my memory and attention issues. I hope this openness helps people realize it's not about them, or my feelings toward them. I talk about my post-it notes and my organizational systems because I want others to see I'm trying. I try to laugh at the silly stuff, and keep working on the important stuff.
Because I'll always misspell my name on occasion. Every once in a while, my post-its — or another system — will fail me. It'll probably be my fault. But I can practice resilience. I can forgive myself and maintain a decent attitude. I can resist the impulse toward defensiveness, blame-shifting, or turning all that anger inward. I can own Jacly, but reject negative, self-destructive labels. Then, I can brush myself off and keep trying, assuming it's not too late to add the 'n.'