I end a lot of days feeling like I got nothing done. Like my efforts were not enough.
Moms with (or without, let's be honest) ADHD: I bet some of you can relate.
I push back against this feeling all the time. It's important to me to feel like I'm enough, but my sense of industriousness and my mood are so closely intertwined. This is why I rarely relax: it doesn't feel good unless it comes at the end of a long, productive day.
The other day, a thought flashed through my mind as I pulled up to a stop sign: What if it's not me, but my memory?
I can't celebrate what I can't remember.
Of course, sometimes a day is justifiably disappointing. My allergies have been driving me crazy and messing up my sleep. I'll admit to spending more time on Facebook and snacks as a result. I know what overtired brains do, and mine's doing it. But why, on a day when I put in a solid effort and cross several things off my list, do I still sit down to dinner feeling disappointed with myself?
During my AmeriCorps service, I submitted weekly reports tracking my progress and my daily activities. I filled them with meticulous detail, and they were never late. I never made time to fill them out at the end of the week, either. I wrote them every hour of every day. Others found this tedious, but the process had tremendous benefits for me. By the afternoon, I don't remember what I did that morning. By dinnertime, I can't tell you what I did with my day at all.
Many adults with ADHD struggle with memory. Not only that, I bounce from task to task, even if I intend to spend all day on one project. I do a lot on any given day, but it rarely makes it into long-term memory. If I can't remember what I do, how must that affect my sense of accomplishment and worth?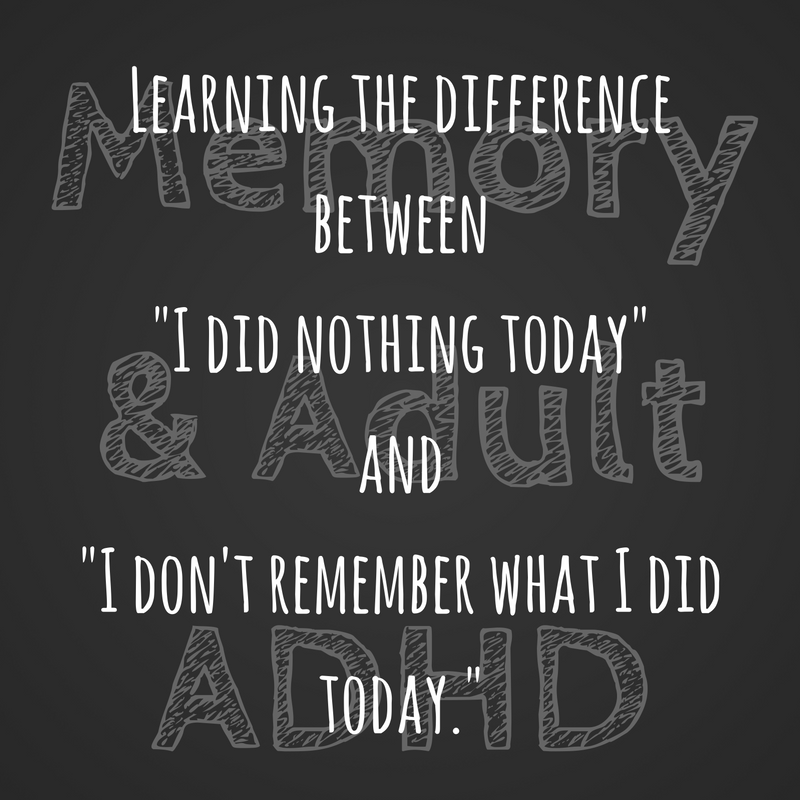 As with everything: write it down.
In my current life, no one's collecting weekly progress reports. I don't have a performance review or a regular check-in. It's easy to lose track of how I spend my time. For a few days, I decided to write down what I accomplished.
The results were surprising. I didn't include base-level responsibilities like child care, cooking meals, or washing dishes, even though these things take a great deal of attention. Even so, I amassed quite a list on Monday: I changed the sheets on the beds, went for a run, did my weekly review, emptied all my inboxes, made sandwich bread, cleaned the downstairs (that includes tidying, dusting, polishing furniture, and vacuuming), folded a load of laundry, made our weekly menu and grocery list, and began to draw a sewing pattern.
It's a relatively modest list, with no glory, nothing worthy of celebration — unless you have ADHD and remember your previous life, when your ADHD was out of control and none of those things felt possible. For anyone, anywhere, it's quite enough to fill a day. With my poor memory, I now understand how I can end a day feeling like I've accomplished nothing. I work in small bites, and this means I'm often surrounded by works-in-progress. I now (occasionally) finish them at some point, but very few days contain anything to brag about.
Forgetting is no excuse for self-criticism.
Glory or no, it's important to give ourselves credit where it's due. Failing to remember what we've done for ourselves, our families, and the world is no excuse. My lesson for this week: if I get down on myself for slow progress, I need to start writing notes. I need to pretend I'll be asked for a report at the end of the week. I need to find some way to remember, because I have plenty to show for myself. I just can't remember what it is.
Do you feel you have a clear picture of your productivity? Your accomplishments? Do you struggle with feelings of ineffectiveness? How much of this do you think is rooted in reality vs. perspective?